Spring Cleaning: Digital Edition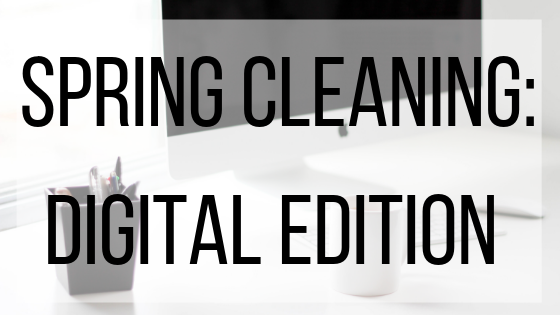 With the arrival of warmer weather, spring is finally in the air! One of the best parts about spring is spring cleaning- airing out your home, sweeping up all of the dust bunnies and letting the warm sunlight shine in. Having a freshly cleaned home is one of the best feelings, and having a freshly cleaned digital presence is right up there with it. In addition to tidying up the physical areas in your life, consider "spring cleaning" your digital presence.
Test Your Website Speed:
This is one of the most basic things you can do, and is also something that can make a huge impact on your sales. Websites tend to get cluttered if they are not kept up with, so check to see that everything is running as quickly and smoothly as possible. Ask the team that handles the back end of your website to check your site's HTTP requests to ensure that they are not too big, and you are not getting too many. Google Page Speed is another tool that makes it easy to target where your pages could use speeding up, and where they are doing well.
Remove Outdated Information:
If you are running your website and social media well, then you are keeping your customers aware of upcoming events and new updates. However, after the events have past, or the updates are not longer as new, think about removing the information. This will help prevent your website and social media from looking cluttered, and will leave room for new information.
For information you would like to keep long-term, try to avoid using specific dates and opt for a more maintenance free approach. For example, on BMT Micro's About Us page, we state that we were founded in 1992, rather than saying we were founded 27 years ago. This allows the information to stay relevant for longer, while conveying the same message.
Review Inventory:
Along with removing outdated information, go through your inventory and make sure everything is up-to-date. If a product is sold out, re-direct customers to something similar or allow them to be notified when it is back in stock. It is important to keep your entire website updated, and your product pages are a good place to start. Double check that your prices and inventory haven't changed, that the pages do not need a makeover, and that you are not advertising for any past promotions. Rotating products also is a simple way to get customers to see products they might not have previously discovered.
Check on your SEO:
Although you should be keeping up with your SEO year-round, your digital spring cleaning is a great time to really take a look at how you have been doing. SEO makes a huge impact on your digital presence. Look into what keywords your customers have been searching. Are they the same as they were 6 months ago? Are there any new trends emerging? Do you need to update keywords for certain products to make them easier to find for customers? Check into what links you have, and make sure they all work. Broken or incorrect links are very frustrating for customers. Not only will you lose some customer trust (by not allowing them to go where you told them they could) but broken links lower your Google rating, making you harder to find for future customers. Lastly, review what content your customers resonated with. For the topics and content that did well, see if you can expand or re-purpose it. For those that did not do as well, do a little research to decide if it was the topic or the presentation that customers did not respond to.
These are just some examples of areas that often need cleaning. Your marketing team knows your company's digital presence better than anyone, so get together and come up with a plan to get your website and social media cleaned up and on track.