Reading Time:
2
minutes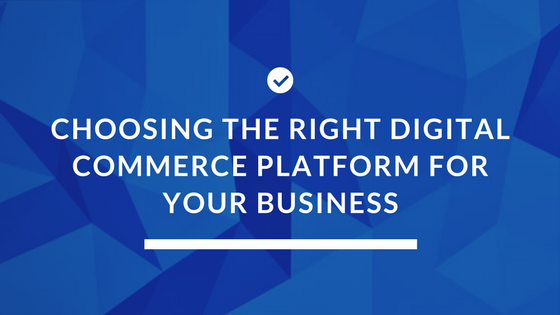 Choosing the right digital commerce platform for your website can be a tough and overwhelming decision. With so many options available, how do you know which platform is the right choice for your online business?
Picking a platform starts with taking a close look at the features you will need to handle all aspects of selling online, especially as your business grows and enters new markets. The platform you choose should provide you with tools that will help streamline sales so you can focus on your product and customers.
When you start your search for a digital commerce platform, there are 3 important questions to consider:
What happens as your business grows?
When deciding on a digital commerce platform, it's vital to choose one with tools flexible enough to grow with your business. Scalability should be a key component of any platform you choose, as it will allow you to expand your customer market and make more revenue. Look for a platform with capabilities that can keep up with your business' ever-increasing demands.
What level of support is offered?
No matter how simple or easy to use a platform may be, at some point, you may need assistance. Customer support should be a huge factor when selecting a digital commerce platform. Some platforms outsource their customer support and this can make it difficult to get help when you need it most. This is why it's useful to take a look at the level of support offered before making a decision.
What is it going to cost?
Digital commerce platforms offer a wide range of tools and features to help you sell online. Make sure to look at all the costs, as well as potential additional costs such as gateway fees, credit card fees, overhead, chargeback handling, tax management and more. Take the time to understand exactly what's included with each platform, and identify the features you really need the most.
Choosing a digital commerce doesn't have to be difficult or daunting. Your decision should come down to which platform works best for your business type and goals.
Here at BMT Micro, we're all about giving you the right tools to successfully sell online. We offer our clients personalized choices and solutions that other e-commerce providers are unwilling or unable to provide. And, our digital commerce platform is designed from the ground up to be intuitive and trouble-free. If you would like to learn more about our services or if you have questions about how we can help your online business, please feel free to contact our vendor services via email at vendors@bmtmicro.com or visit our website at www.bmtmicro.com.
Sign up with BMT Micro today! If you would like to go ahead and explore what our platform has to offer, you can do so by signing up here: New Developer Sign-up. Please note: you can sign up and create an account with no costs or commitment. You are under no obligation when signing up with us. BMT Micro charges a % of the commission for each sale so if you never sell anything, you do not owe anything.
Reading Time:
2
minutes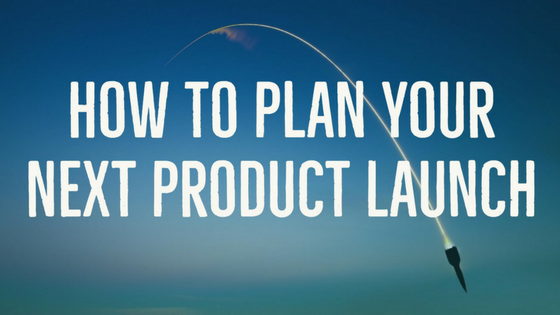 Launching a new product can be a critical, nerve-wracking time for a business. A poorly planned launch could lead to fewer sales, unhappy or confused customers, and even negative ROI. On the other hand, a well-planned launch could bring a business more sales, happy customers, and a better bottom line.
According to Hubspot, some businesses launch their products by drafting a press release, crossing their fingers, and hoping that the users will come. But, there's actually much more that goes into putting together a solid product launch plan than that.
Market Opportunity
Any successful product launch starts with a deep understanding of the target audience and evaluating the opportunity in the market. Ultimately, a product's success or failure is largely based on whether people will use it. A product will not be successful if your audience wants one thing but you are delivering another. It's important to ensure your product is solving a real problem (or problems) that your audience is willing to pay you to solve.
Takeaway: Any product launch should be as a result of an audience and market need.
Timeline
During a product launch, time is going to be your most valuable resource. Start by determining your desired launch date and work backward to set a realistic timeline for everyone involved. Make sure to prioritize specific projects that have the greatest impact on your product launch goals. Your timeline should cover each step you need to take to reach your goals, and set proper expectations for your entire team.
Takeaway: You need to develop a timeline that helps prioritize tasks and goals so you can get the most from your launch.
Goals
One of the biggest parts of a product launch is establishing clear goals. The goals you set should help frame the purpose of your launch and guide you in evaluating tactics. Once your goals have been established, make a list of all the possible things you can do to hit each goal. The point of this is to create a list of everything and then narrow it down. You should also consider how your goals will be measured.
Takeaway: Establish clear launch goals to stay on track.
Positioning
The right positioning shapes the way consumers will evaluate your product and drives their purchase decisions. Your positioning should be developed from a clear understanding of market needs and how your product's capabilities meet them. Focus on answering the following three questions to build out your positioning: Who is this product for? What does this product do? Why is this product different?
Takeaway: Your positioning needs to communicate what your product actually does and its value.
Testing
The best way to determine if a product will be successful is to have a group of beta testers (which can be some of your trusted customers) evaluate your product before you release it to the public. It's important to listen to their feedback and make necessary updates. This will help you better understand what end users will love, hate, or don't need.
Takeaway: Testing is a key factor of a product launch and should be replicated many times before your launch date.
Overall, think through your product launch and don't leave anything to chance on the big day. Successful product launches require real planning and effort to make sure you're ready for whatever the market may throw at you.
Reading Time:
3
minutes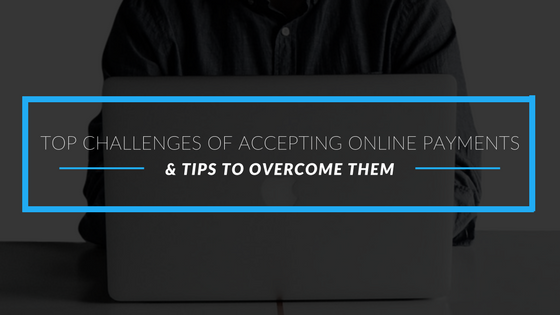 As an online business owner, one of the most critical things you have to figure out is how you want customers to pay for your product or service. It's an obvious business necessity. But, the online payment processing landscape can be a bit confusing and expensive.
There are many unique challenges that make it hard for businesses to accept online payments. Fortunately, we've identified a few of the biggest ones you'll likely encounter – and added some tips on how to quickly overcome them.
Acquiring a Merchant Account & Payment Gateway
Two key components that allow businesses to accept online payments are a merchant account and payment gateway. The payment gateway is the first place a transaction goes once a customer submits their payment on a checkout page. But, in order to process transactions using a payment gateway, a merchant account is needed (for more on this: Payment Gateway vs. Merchant Account).
Applying for a merchant account and payment gateway typically involves going through a fairly in-depth credit check and underwriting. Your business may also have to pay other setup fees associated with a merchant account besides the credit card processing and transactional fees.
Tip: To make your life easier, look for a solution that offers a merchant account and payment gateway all in one.
Cross-Border Transactions
Multi-currency, cross-border transactions can create many challenges related to currency exchange, language barriers, payment and technology standards, and conflicting banking infrastructures. When selling online internationally, it's important that your business is able to support customers' preferred currencies and payment methods. But, this requires setting up new bank accounts, new business entities, and new regulatory hurdles in each national market. You will also need to be able to adjust quickly for varying exchange rates and adhere to international taxes, tariffs, and fees.
Tip: For many businesses, it is easiest to handle cross-border transactions by outsourcing to a full-service e-commerce solution.
PCI Compliance
Handling online payments requires compliance with legal guidelines. For example, a PCI DSS compliance certification is required by card brands such as Visa, MasterCard, and Discover. The certification needs to be renewed annually and achieve a passing score, which is based on a set of very stringent criteria. If your business electronically stores cardholder information or if your processing systems have any Internet connectivity, a quarterly scan by an approved scanning vendor is also required. Any non-compliance could carry the potential for fines and penalties.
Tip: Look into everything an e-commerce platform offers. For example, our vendors are PCI compliant by default using our secure system and there is no need for them to acquire their own certificate.
Fraud
With fraudulent transactions at an all-time high, many payment security experts say PCI DSS alone does not offer enough data security for online businesses. Fraudsters are always looking for new vulnerabilities. If your business accepts a fraudulent payment online, you could end up being held financially responsible for the loss. It is no longer an option to have extra protective measures in place. Even the slightest hint of a security breach or cyber attack is going to tarnish your reputation and lose many customers.
Tip: Some e-commerce platforms offer protective services that can save your business the time and the expense to keep fraud to a minimum and your customer's information safe.
Trying to handle the challenges of online payments on your own can eat up a lot of your money and resources. But, your business does not have to tackle them all alone. There are several e-commerce solutions out there to suit any businesses' payment processing needs. Make sure to find one that can provide top-notch protection and is flexible enough to meet your specific business needs.
Why BMT Micro? We can help your online business overcome all of these challenges. Our proprietary systems have everything you need to start selling online. Sign-up here for free to explore what our full-service e-commerce platform has to offer. Please note: you can sign up and create an account with no costs or commitment. You are under no obligation when signing up with us. BMT Micro charges a % of the commission for each sale so if you never sell anything, you do not owe anything.