Reading Time:
4
minutes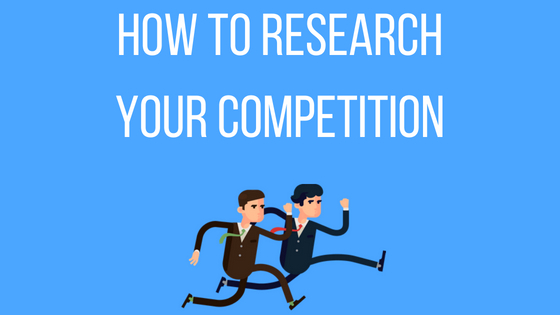 Sales is a competitive business, and competitors are always looking for ways to draw in new customers, even customers who are currently loyal to your brand. One of the best ways to keep your company ahead of the competition is to know your competition. Identifying and researching the companies who are targeting the same customers as you is very beneficial for customer retention and sales growth. Here are some tips to help you figure out who your competition is and how to research them.
How to find your competition: Chances are, there are going to be a lot of other companies targeting the same market as you. It is helpful to find your top 5 competitors and focus on them. A good place to start is to look at keywords that help bring traffic to your website, and google them to see who else's name comes up in the search. Make sure you are searching in an incognito browser when you are looking up these companies. There are two main groups of competition. While one may seem more important than the other, it is beneficial to know both categories and research them.
Direct: Direct competitors are the most obvious of the two groups. These are companies that offer the same products and services as your company. You will want to spend most of your time and efforts researching these companies, as they are the ones who directly effect you. Some examples of direct competitors are Nike and Adidas, or McDonald's and Burger King.
When customers are deciding between you and your direct competitors, they will likely take into account prices points, services, features, and convenience. All customers will weigh these differently depending on their needs. Offering a variety of options to help meet their needs is a fairly simple way to attract customers. By giving customers a choice in what they purchase, you can reach a wider variety of people and attract customers who might typically go to a more specialized company.
Indirect: Indirect competitors are companies that offer similar products or services as you, but not quite the same. While they are not as much of a threat to your sales initially, they can develop and grow to attract your customers. Indirect competitors are harder to identify that direct competitors, but can still be found through keyword research.
Most businesses face indirect competition. Although indirect competitors are not selling the same product or service, they are filling the same customer need. For example, if a customer is hungry they could choose to get takeout from a restaurant or stop by the local grocery store for food. While the restaurant and grocery store probably do not view each other as competition, as they are not the same type of business, they are filling the same customer need.
Research: Now that you know the types of competition, here are some tips to help you research how your competitors are doing and what you can improve on. First, identify your top 5 competitors. Use websites such as compete.com or spyfu.com to help you figure out companies with a similar size, target audience, and product as you. Next, run a Google search of these companies. While a Google search might sound too easy, that is likely what potential customers are going to turn to when looking for information. This allows you to view your competitors though the customer's eyes. Make sure to look at their websites and social media pages (including Linked In) as well. As you search their website and social media, make note of prices, call-to-actions, social media presence, and how customers are responding to them.
Another effective way to learn more about your competitors is to ask your current clients. Chances are they did research when looking for your product, and are familiar with similar companies. If you are a smaller company, you could consider interviewing your customers to ask why they chose you, as well as what they like about your product or service and what you could improve on. Surveys are a good option for any size business, and allow the customer to answer questions on their own time. It is helpful to offer an incentive (such as a discount) to customers when they participate in surveys, or enter them to win a prize with the completion of the survey. Make sure to keep the survey fairly short so that customers do not lose interest and stop partway through.
Researching your competitors advertisements is another method that is simple and effective. See what methods they are using- do they use a lot of customer testimonials, do they focus on ethos, pathos or logos, what platforms are they using? This information can help improve your own advertisements to expand your reach.
Having a solid understanding of your competitors can help you improve your own business greatly and help to ensure that you are staying ahead of the competition. Remember to always use ethical tactics, like the ones listed above, and focus on promoting your company rather than slandering your competitors. Use the information you find to improve on your weaknesses and show your customers why your business is unique.
Reading Time:
3
minutes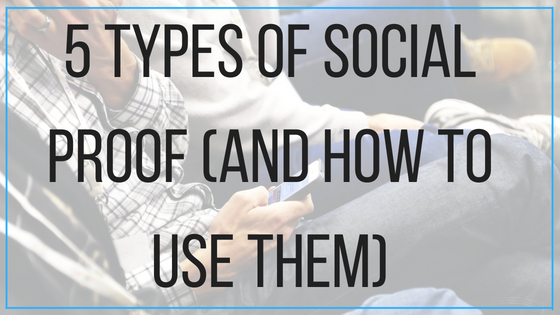 Psychology plays a big part in marketing, especially when you want to understand why customers are thinking and acting the way they are. One of the basic principals of psychology that is commonly used in marketing is social proof. Social proof is the idea that customers will conform to what other customers are doing, because if others are doing it, it must be the correct behavior. A study done by Neilson found that 83% of customers from 60 different countries trust the recommendation of friends and family over any other type of advertising. Here are the 5 types of social proofs and how you can use them.
Expert Social Proof: This type of social proof is when an industry "expert" approves your product. This can come in many forms, such as a blogger giving your product a positive review, an Instagram post showing an expert loving your product, or displaying an expert certification. Having an expert tell people they like your product gives the "halo effect", meaning if the trusted expert likes it, customers know it must be good without having to do outside research themselves. This ties is closely with Affiliate Marketing. An example of expert social proof is Fitbit having fitness experts leave reviews, and even teaming up with Adidas (a well known fitness brand) to show customers that they the best fitness tracker.
Celebrity Social Proof: Celebrity social proof uses a celebrity endorcing a product to promote it. This is most commonly done on social media, commercials or print advertisements. Sometimes, celebrates will endorse a product without compensation, which is especially meaningful. An up-and-coming brand that has been using celebrity social proof is The Queen Pegasus, best known for their Lash Elixir Kit. Kim Kardashian first raved about the product, and the website has a page titled "Queens Be Doing It" which consists of beauty influences and celebraties claiming how the Lash Elixir Kit has giving them long, luscious eyelashes. Many more well-known brands such as Covergirl, Fabletics, and Nike frequently use celebrates to endorse their products.
User Social Proof: User social proof consists of product reviews from customers who have already tried the product. This can be a very valuable type of social proof, as it lets customers read what previous, objective customers thought. The objectivity of these reviews gives them higher credibility, since the customer reviewing the product has nothing to gain. Online shopping can make some customers hesitant, as products can be different in person than what they seem online. User testimonials help unbiased customers point out the pros and cons of a product, leaving future customers more satisfied with their purchases. Amazon and Yelp are two examples of websites that are known for their customer reviews.
Wisdom Of The Crowd Social Proof: Wisdom of the crowd social proof plays on a customer's fear of missing out. By telling everyone how popular your product is, potential customers are more likely to try it. McDonald's is a classic example of using wisdom of the crowd social proof. If you look at their signs, they boast over X billion hamburgers have been served at McDonald's. This is social proof that a lot of people eat at McDonald's, and therefore you should too. Having a large number of people purchase your product is an endorsement, as so many people cannot be wrong.
Wisdom Of Your Friends: Similar to wisdom of the crowds, wisdom of your friends relies on the likes and opinions of the customers friends. Customer's value the opinion of someone they know far more than any other type of promotion. Wisdom of your friends social proof can be as simple as "liking" or following a brand on social media. Social networks like Facebook allow companies to show users what events their mutual friends are attending, or what pages they are interacting with. Some companies even offer referral deals for customers who reach out to their friends and ask them to use the product as well.
You can use more than one type of social proof to help promote your business. Social proof has been called the most important factor in selling, so make sure that you are doing all you can to give your customer's the best possible experience. One study found that 70% of Americans read reviews before purchasing a product, and that positive social proof is more effective than saving money. If you want to continue to sway uncertain customers into loyal customers, develop your social proof stratigy. 
Reading Time:
3
minutes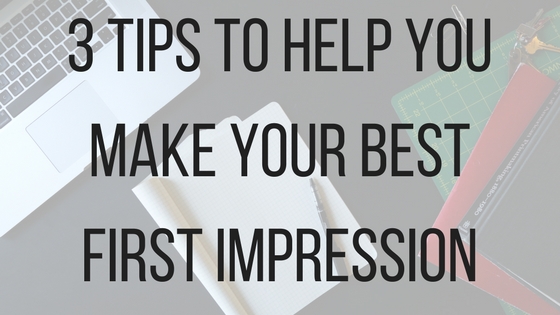 First impressions matter, and this is especially true of your company's website. While fliers and phone calls are still used to spread information about companies, most customers are turning to websites as their main source of information. According to a study done by The Journal of Behavior & Information Technology, websites have about 50 milliseconds to make a good first impression. So how do you make sure your website truly reflects how great your product is? Here are 3 tips to help you make your best first impression.
Navigation: Nobody wants to waste time looking for what they need, so your website needs to be clear and easy to navigate from the get-go. Write down a description of what you want the site to look like, what your customers expectations are, and what goals you have for the site. Sketching out a website blueprint can be helpful if you are planning a new website or a big redesign of a current website. Make sure you are keeping your website up-to-date with a clean design. If potential customers are taking the time to visit your site, they want to see that you have put effort into making it aesthetically pleasing, unique, and concise. Have clearly labeled tabs at the top of your website and easy to find contact information (usually linked at the bottom of the page). It is helpful to add a FAQ page as well. Customers often turn to the website for answers to questions before they try to contact customer service for a timely and convent answer.
Accessibility: Customers are impatient when visiting websites. If the page has a lag or won't load, even after a few seconds, you pose the risk of driving them away from your site and to a competitor. A study by Google found that 61% of users will not return to a website they have trouble accessing the first time. Gap is notoriously known for having a slow loading website. While the design isn't bad, the initial load time is longer than ideal. Once on the website, the links do not load much faster than the home page. While a few seconds might not seem like a big deal, having a lag is a sure way to drive online customers away and lose sales.
What you do want to aim for on your website is fast and concise information. The visitor is likely on your site to get more information about your company and product. Let them know who you are, what you do, and what you can do for the visitor. Avoid jargon so the visitor is able to easily understand what you are saying. It is smart to design your pages for your target audience, so that you can use language that they will understand and respond to. Make sure to include a call-to-action, such as "Buy Now", "Learn More", or "Download". It is important to ensure that your website stays updated to reflect how your company and customer base are growing.
Optimization: In the age of smartphones, tablets, and laptops, it is crucial that your website works on all kinds of devices. Nothing is more annoying to a customer than trying to look up information on their smartphone, only to be told that the website is not optimized for that device. The same goes for apps or websites with the smartphone user in mind. Snapchat is a good example of a website that is optimized for many formats. Although it is designed to be used on smartphones, the website is easy to navigate for users who want to create custom filters or add a geofilter to the map. Large font sizes, plenty of white space, and a thought out color scheme help your website look good on any device, rather than cheap and cluttered. Choose one main objective of your website, and offer your customer choices from there. Having too many options makes your website overwhelming, and harder to optimize for different devices.
Although it might not seem like your website is as important as what you are selling, keeping up a good online presence shows your customers that you care about them and respect their time and questions. Building a website that is aesthetically pleasing, easy to navigate, and helpful is a crucial way to build your brand and please your customers. First impressions last for years, so make sure your website reflects how great your product or service is.