Reading Time:
3
minutes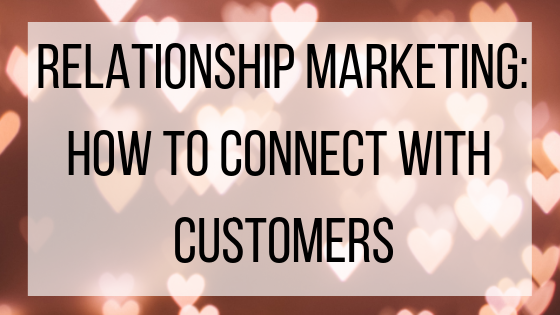 As every marketing professional knows, customer retention is one of the most important things your company can focus on. Retaining the customers you already have saves you money from constantly trying to recruit new customers, helps you with word of mouth marketing, and increases revenue. American Express discovered that retained customers spend more than new customers, as they realize you are trustworthy and worth their loyalty. Relationship marketing is a strategy that focuses on retaining the customers you already have, rather than spending most (or all) of your effort on gaining new customers.
Relationship Marketing vs Traditional Marketing:
Relationship marketing different from traditional marketing in that it is more focused on long-term relationships with customers, rather than the short term sale. Fostering a relationship with customers encourages repeat business and positive word of mouth marketing, instead of a one-time purchase. By building a relationship with each customer, you gain their trust, learn what they want from your business, and get continued repeat sales. Many airlines utilize relationship marketing by teaming up with credit card companies to offer benefits to loyal fliers. This helps encourage cardholders to choose the airline they have a relationship with so that they get more benefits, rather than the cheapest flight they can find. A traditional marketing approach would be to
Types of Relationship Marketing:
Relationship marketing encompasses many different methods of marketing based on the customer's long term loyalty and satisfaction. Although there are many ways you implement relationship marketing, influencer and referral are two of the most common types.
Influencer marketing is one of the newer ways to implement Relationship marketing. Typically influencer marketing uses individuals with a large social media following within a specific niche to drive their product. The perk of this for the influencer is that they get free products for posting a picture. If you choose to use influencer marketing, consider giving your influencer a code for his or her followers to use to purchase your product. Using code allows the influencer's followers a small discount (free shipping, order discount, etc) and allows you to track how successful the influencer is at promoting your product.
Referral marketing is another popular style of relationship marketing. Referral marketing rewards current customers for sharing and promoting your products within their network. This could include a discount off an order or points towards prizes. One of the best things about using referral marketing is that allows you to reach new customers through people that they know and trust, rather than a stranger trying to sell them a product.
Relationship Marketing Strategy:
As with any marketing plan, having a strategy mapped out is the only way to be sure you are getting the best results for your effort. One of the best ways to foster your relationship with your customers is to have a wonderful customer service team. Your customer service team will help you have the best possible relationship with your customers, as they are the ones who will be speaking with them directly and will have access to the most feedback. Anyone on your team who interacts with customers (on the phone, in person, or on social media) should be personable and trained on how to create the best customer experience. CRM (customer relationship management) tools are helpful in managing and improving relationships. These tools help you store and track information on customers, track communication, and make overall organization easier. Track data on your customers (such as their age, job titles, and region) to help you get a better understanding of who is best responding to your advertising and help you decided how to reach them.
Relationship marketing might seem tedious at first, but once you get started it is a very rewarding form of marketing that will come naturally. Think of the relationship with your customers as you would a personal relationship- the closer you are, the easier the relationship is. Relationship marketing, when done right, is a very rewarding experience for everyone involved.
Reading Time:
3
minutes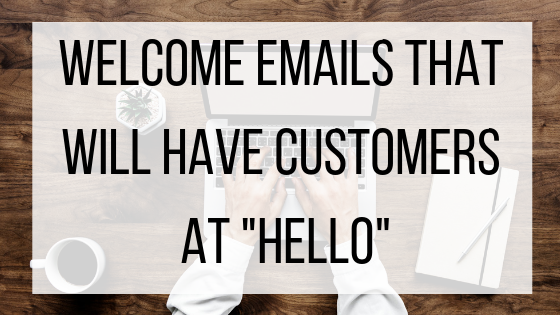 First impressions, good or bad, are lasting. And while you can overcome a bad first impression, it is much better to start off a relationship on the right foot. The same goes for starting a relationship with your customers. After creating a stellar Homepage and About Us page, customers will hopefully be drawn in enough that they order from you and opt in to join your email list, or even join the list without a purchase to learn more about your company. Welcome emails are a deciding factors for many customers if they want to continue to receive your updates, or if they want to move on.
What is a welcome email?
A welcome email is the email you send your customer to follow up with them after the make their first purchase. This includes subscription conformations and post purchase emails. Welcome emails have an open rate of 50%, which means that they are 86% more effective than a regular email. They are the foundation for all emails to follow, so make sure that you value the customer's time and give them quality content.
How to make welcome emails work:
By the time your customer gets a welcome email, they are already invested in your company. They might have just purchased from you for the first time, or they might be impressed by something they saw or heard about your company, and want to stay in the loop. Encourage their excitement in joining you by devising a strategy. See what kind of emails competitors in your field are sending out, track the open rate, clicks, and conversions of the emails, and keep your welcome email on track with your brand image. For example, many brands with welcome members to the "family" or "tribe" to make new customers feel as though they are part of a large family. Others choose to keep it simple, with a short elevator pitch about why they are glad the customer signed up with them and what they plan on doing to help and delight them. Choose an approach that your customers will respond to, and track your results to improve on future welcome emails.
Make your welcome emails timely and personal:
Send your welcome email as soon as you can after customer's give your their information. Most customers will keep an eye on their email inbox after submitting their request to be on your list, or after ordering a product. Getting their email to them will give them reassurance that their order or request went through, and keep up the excitement of trying your product or learning more about you. Welcome and thank new customers by name. Even though it is unlikely you have the time for someone to address and send every single email, there are automated programs to help you send you chosen welcome email with the customer's name. Simply adding their name gives the email a much more personal feel.
Deliver an incentive and CTA:
It is common for businesses to give customers an incentive for signing up for email lists, such as 15% off your next order. If you offer a deal, deliver the code in the welcome email. Customers do not want to feel scammed waiting for the deal they were promised, and waiting to send it out in a later email could result in a lost sale or a decline in subscribers. In addition, add your call-to-action so it is clear what path you are trying to get your new customers to take. CTA's could range from customers using the promo code, to checking out your About Us page, to "liking" your social media pages. Make your welcome email stand out with clean images and a short, concise message.
Welcome emails are important, but also fairly simple as long as you do your research. As with any aspect of your brand, your welcome email should reflect your brand image with colors, pictures, and language. Think of your welcome email as the "welcome mat" to a long and rewarding relationship.
Reading Time:
3
minutes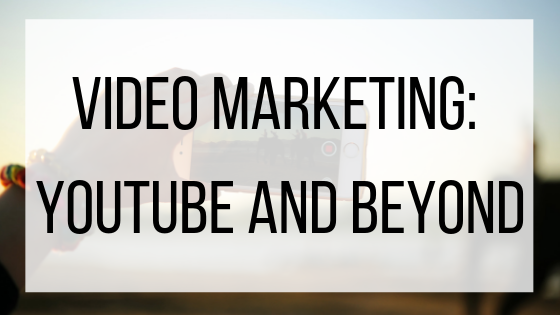 Chances are, you have watched internet videos at some point. With a range from silly, to how-to videos, to the newest trends, online videos often have a little something for everyone. With platforms such as Youtube becoming so popular that there are documentaries being made about it and younger generations making a living off Youtube videos, video marking is something to keep in consideration. In fact, Youtube alone has over 30 million daily active viewers. While adding a Youtube channel might sound like one more thing to add to your to-do list, there are other ways to incorporate videos into your business. Whether you just want to look into making some promotional videos for your company, or you want to dig deeper into video marketing, here are some ways to get started.
Youtube:
Youtube is the biggest, and most well known, video platform. In fact, it is one of the most visited websites in the world. When it comes to creating your own Youtube videos, it is key to take into account your target demographic. Youtube serves a very wide variety of businesses and viewers, which means that you need to do a little bit of research before diving in. Think of what kind of videos you would potentially create for your company. Dollar Shave Club chooses to make mostly silly videos showcasing their product, which does an excellent job of catching the attention of their mostly millennial demographic. TED Talks Youtube channel consists of "ideas worth spreading" that educate and challenge their professional audience. Start with the one type of video that you think your demographic would best respond to, and expand to provide a variety in the future as your audience grows.
Advantages:
There are many advantages to starting a Youtube channel. As many social media sites, a Youtube channel is free to start. Posting creative, engaging content will help you strengthen your brand and reach new audiences. When your subscriber base gets big enough, Youtube will pay you to run a short advertisement. When starting your channel, decide if your main goal is to create revenue through Youtube or to create an educational page for your company or products. Some companies lend themselves well to entertaining videos, while others will do better with sharing information. If you chose to do informational videos, consider creating a short series where you show off your products and how to use them. Benefit Cosmetics has a Youtube channel featuring videos running around 45 seconds that showcase their makeup, and tips for using it. They use a diverse range of women, showing that their makeup is good for any skin tone, and feature their signature pink in the background for consistency. They also created longer video series farther down the page such as "Laughter Is The Best Cosmetic" and "About US: #LifeAtBenefit" to give viewers some entertainment and a view into their daily lives.
Disadvantages:
One of the disadvantages of Youtube, as with any other platform, is that you need to create consistent content for it to be successful. Creating a video one a week (or however often you choose to post) is a big task. While any media takes a lot of thought and effort, filming videos takes special equipment, plenty of time, and some help from coworkers. Plan plenty of time to shoot your video, and plan to take several takes so you can get the cleanest shot. After you shoot the video, you will need to take time to edit all of the takes together for your final product. While videos can be a great asset to your company, you need to ensure that you have the time and resources to create quality content.
Alternate Platforms:
If you are not sure that Youtube is right for your company at this time, or you are not sure you have the time and assets for starting a consistent channel, there are other ways that you can share videos. Facebook allows users to create and feature videos on their page. This is a great option if you want to try your hand at making a video without the commitment of a whole channel dedicated to video. Posting a video on Facebook will help with more engagement, reach new customers, and show off your company in a new and different way. LinkedIn is also a great platform to post a video on. Posting a short video on LinkedIn is new and interesting for your audience, will start more conversations and potentially help you gain new followers.
Video is a trend worth looking into for most businesses. It is fun, has high engagement rates, and is almost always free. If you do not have the time to dedicate to Youtube yet, try one of the alternate platforms to see how your current audience responds. If you do decide to give Youtube a shot, it can be a fun and memorable way for your company to bring in more revenue.