Reading Time:
3
minutes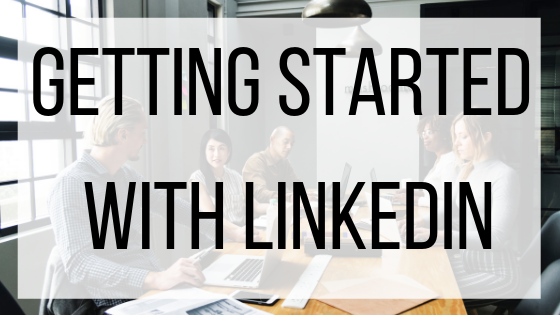 As the majority of marketers and businesses know, social media can be a wonderful and useful way to interact with customers, reach new audiences, and have some fun. Facebook, Instagram, and Twitter probably come to mind immediately for most when social media is being discussed. But with 562 million users in over 200 countries, LinkedIn is not a social network to be overlooked. While LinkedIn has a bit of a different mission than other social networks, it can be an invaluable resource to companies and individuals. Whether you are looking to create a LinkedIn profile from scratch or update a preexisting one, here are some tips to help you get started.
Start with your personal profile:
Even if you are mainly looking to update your company's page, updating your own is an important first step. No matter how great your company's page might look, if the employees associated with it have less than stellar personal pages it will reflect poorly. One of the best parts of LinkedIn is that it allows people to connect with other professionals they might not have met otherwise, or to follow up with someone they met at a professional event. Each employee needs to be prepared to represent the company with his or her LinkedIn account. Prospective employees are very likely to look at the accounts of current employees to learn more about the company culture, and see if they could see themselves fitting in there. Show off how much you love your company by setting the bar high and adding a professional picture, summary, resume and skills. Make sure to keep your profile updated as well, even if it is just with small, quick changes.
Add clear content:
Much like your website, people visiting your LinkedIn page are not going to want to spend much time searching for information. Add a tag line, personalized URL, ask your employees to connect with your page, and make sure your "About" tab is accurate. LinkedIn is also a great place to advertise job openings you have. LinkedIn profiles are more professional and less "fun" than Facebook, so it is easier for potential employees to take a look at your company. Details such as company size, headquarters, company type, and specialties are all clearly listed for anyone who wants to check out your page. There is even a "People" tab that displays your employees, where they are from, where they studied, etc if you want to display your demographics. Adding your employees to your "People" tab will help draw in new employees that are a good fit with your demographic, or new vendors that wish to work with your company size and demographic.
Get your followers and connections involved:
LinkedIn is a prime place to keep up with or share new ideas in your industry. Since it is a professional social network, you will be interacting with people in your industry, rather than your social circle. While it is not a bad idea to have connections in other fields (especially ones that are related to you) it is beneficial to build up your network of people and businesses that you want to professionally interact with. Ask questions about new trends that will get conversations started, share new products or services, or share content from other LinkedIn pages that you think your followers would find interesting. Do not make your posts too long, or your audience will not read or interact with them.
Add page administrators:
Much like Facebook, LinkedIn allows you to add multiple people to help run your company's LinkedIn account. Choose your LinkedIn page administrators much how you do for your other accounts. If you decided to have more than one page administrator, sit down and have a meeting to discuss goals and plans for your page. This helps to avoid over and under posting, and allows everyone to collectively decide on a plan. If you just have one page administrator, it is still good to come up with a plan, and share it with a supervisor or another employee who might have ideas to contribute.
LinkedIn is an easy and fun way to make more professional contacts, show off your business, and keep in touch with others in your industry. Make sure to share and update content often to get the best use out of your profile, and take advantage of the opportunities LinkedIn provides.
Reading Time:
3
minutes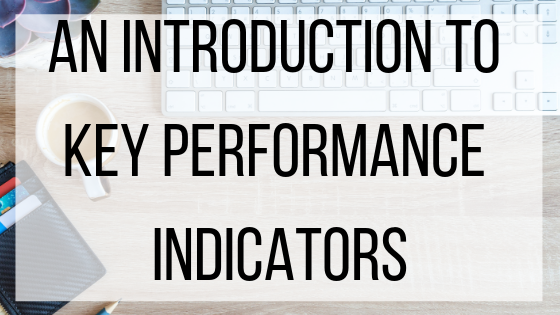 When trying to better or grow your company, it can be difficult to find a clear starting point. Often, marketers are told to research customers, competitors, and sales, but not given a clear starting path. This can be confusing, frustrating, and lead to a plateau in progress. Choosing and monitoring your Key Performance Indicators, or KPI's, is a smart way to get started figuring out what is and is not working for your business. KPI's should be tailored to your company's goals, although there are some KPI's that could be considered useful for the majority of ecommerce businesses.
Performance Indicator vs Key Performance Indicator:
A performance indicator is a quantitative measurement to gauge performance goals. Since there are so many different variables you can measure, performance indicators are very broad, and can be a bit overwhelming. Key Performance Indicators are the most important factors you need to measure to help reach your goals. Typically, KPI's are narrowed down to two or three measurements. KPI's can grow and change along with your company and goals, but having a smaller number at first allows you to focus and progress more efficiently.
How to choose Key Performance Indicators:
For most companies, KPI's will fall under one of the following categories: Sales, Marketing, Customer Service, Manufacturing, or Project Management. Choose a category that you would like to track first, and then ask yourself several questions. What is your company's objective for this KPI? Can it be measured? Which team within your company is best equipped to achieve this objective, and do they have the time and resources to tackle the goal and it's KPI's at this time? What metric goal have you set, and is it realistic?
Once you have your goals set, you can start deciding how you want to measure them, and determine your KPI's. For example, say your goal is to grow your website traffic by 10% in the next 6 months. Some KPI's you could track would be your website traffic, click rates from advertisements you are running, social shares, and bounce rates. The value of the indicators depends on the goal you have set. The more relevant the KPI is to the goal, the more value it will have in assisting you.
General Key Performance Indicators:
While you should determine your KPI's off of the goals you have established, there are several KPI's that are helpful for most ecommerce companies and very likely to fit in with the goals you have set.
If your goals fall under marketing, some KPI's to consider are tracking your website traffic, your traffic source (are visitors coming from one of your social channels more than others, is your SEO outperforming your social channels, etc), the amount of time your visitors are spending on your website (are visitors finding what they need, or are they leaving your site quickly because they cannot find what they are looking for), social media followers, and email subscribers.
If you want to focus more on sales goals, your KPI's could track the number of sales you are making, your conversion rate (how many of your site visitors completed your call to action), shopping cart abandonment rate, the average order size, or customer acquisition cost (how much you spend on marketing and recruiting vs revenue).
Your KPI's are the driving force between you and reaching your goals. They are a great way to get organized, stay on top of your research, and define which areas of your business need to be updated. There is no "one size fits all" for KPI's, so get together with your team and come up with ways to work together to track your data and accomplish your goals.
Reading Time:
3
minutes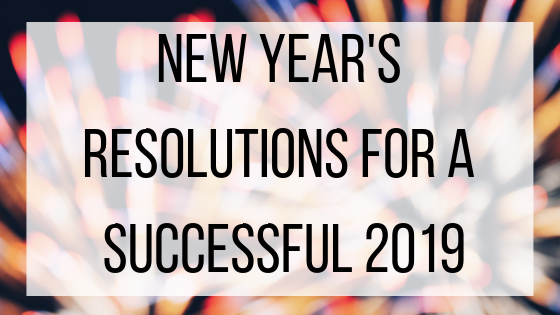 The beginning of the new year is an exciting time. Employees return to work refreshed from the holiday break, with new inspiration and eagerness to get started on their personal New Year's resolutions. A new year is also the perfect time to plan some New Year's resolutions for your company. Having a team meeting to discuss fresh ideas and what goals you all would like to accomplish is a motivating and productive start to kick off 2019. Here are some ideas of New Year's resolutions to help you get started.
Refresh your website:
New year, new you. While your website makeover does not be dramatic, take a close look at it and be honest about what changes need to be made. Websites are hard work to maintain and update, and it is common for companies to leave the results longer than they should. Go through each of your pages and decided if it is time for them to change, or if they are still relevant. Changes to your website can be big or small. You might not need a complete overhaul, but rather small updates. Is your Contact Us page still correct? Does your About Us page need some updating? Even if you simply re-write some of the information on these pages, it shows your customers that you have someone dedicated to checking and updating the website. If you are pleased with every aspect of your website, refreshing your layout can still be fun. Modifying your color scheme, fonts, or pictures would be an exciting change for those creating the website, as well as your visitors. If you do decide your website needs a dramatic change, create a month by month plan of how to accomplish your goals. If you anticipate your website being slow or down during the updating process, be sure to give your customers a heads up to avoid frustration.
Create (or update) a Loyalty Program:
Loyalty programs are an excellent retention strategy. Even if you offer small rewards, such as free shipping or 10% off, loyalty programs are an easy way to increase Customer Lifetime Value. Before you launch your loyalty program, do some research on who your customers are, what demographics you would like to target, and what incentives you would like to offer. See what your competitors and others in your industry are doing to get ideas. Creating a custom loyalty program allow you to thank your customers for continuing to do business with you. If you already have a loyalty program, research and analyze to see what customers are responding to, and what you could modify. Try adding a referral bonus program to reach even more customers. Having a referral bonus encourages current customers to share your company with friends that they think would also enjoy your product or service, and encourages the new customer to give you a shot with a discount or bonus. The start of the new year is a perfect time to add or update both a loyalty and referral program, as it will make customers feel appreciated and peak their interest.
Utilize Social Media:
Chances are your company has social media accounts. This year, plan to utilize them more, put out more creative content, and use them to interact with your customers. Brainstorm new ideas to delight your customers, and weigh how they work against your old tried-and-true content. It could be as simple as adding a Motivation Monday on Twitter, or as ambitious as starting a company blog. Do some research to see if the social channels you are using are the ones that your customers use and respond to, and look at ones that you might be missing. Social media is a great opportunity to grab customer's attention and show off your company's unique personality. There are a variety of ways you can choose to represent your brand, but make sure it is consistent across all channels. Be smart about your social media use, and it will be an irreplaceable tool in driving engagement.
There is no limit to the amount or size of the resolutions you make. Use the beginning of this year as a fresh start for a prosperous 2019. Does your company have any New Year's resolutions this year? Let us know in the comments!