Reading Time:
4
minutes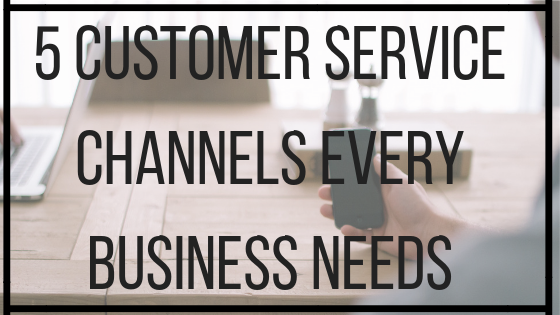 Customers are at the heart of every business, no matter how large and established or small and new. And while you do your best to provide the best possible product or service for them, once in awhile things go wrong or a miscommunication happens. Some customers will be understanding while others may lash out in confusion or frustration. The best way to handle situations gone wrong and to keep customer loyalty is to ensure that you have open lines of communication through various channels to meet customer needs. Here are five important customer service channels that every company needs.
Frequently Asked Questions: Commonly known as FAQ's, having one of these pages on your website can help you and your customer save a lot of time. Typically, customers will contact you if they need answers that they are having a hard time finding on their own. While some customers feel more reassured getting an answer directly from a customer service representative, the majority are happy to find the answer for themselves on your website or social media channels. Research common questions customers ask about the type of product you sell, and look into FAQ pages on competitors websites to get ideas. Even if you are just starting your business, an FAQ page will be beneficial to you. Make sure your FAQ page is organized, states answers clearly, and offers other ways to get in touch if the customer's question is not answered above. As your company grows and develops, update and add to your FAQ page.
Email: Email is a classic, easy way for customers to get in touch with you. In the age of smartphones, email is easy for customers to access at any time. It allows them (and you) to communicate in an asynchronous way, which is convenient for both parties. Email communication also helps you easily keep track of customer conversations. This allows you to measure satisfaction, how quickly the issue was resolved, and feedback about the interaction. Make sure you take note of how the email conversations go so that you can continue to better your customer service and ensure that problems are solved as quickly as possible. Customers who do not need an instant response will often turn to email as their preferred method of communication, so make sure to offer a timely and helpful reply.
Live Chat: Live chat is a wonderful way to provide quick, accessible help. Live chat is perfect for customers who need a quick response (so they do not wait to wait for an email) but do not have the time for a phone call. Live chat can potentially allow for the customer to multi-task as well, and allows you to search for answers and send helpful links more easily than over the phone. Consider what page or pages you'd like to add the live chat. Unless you are a large company that offers 24/7 customer service, you will also want to set up an away message stating your office hours, and when you will be able to get back to the customers. Some chat services such as Tidio Chat will send you chats sent during off hours as emails. This option still sends the customer the away message, but allows you to respond to it from your inbox as an email.
Phone Support: Sometimes customers will be confused or frustrated, and want to talk to a person on the phone for immediate, step by step help. Often, older customers also prefer this method, as they are not digital natives and speaking to a person is more familiar to them. Do your best to answer the phone when customers call, even if you are working on something else. If you do miss a call and they leave a voicemail, try to identify their solution and give them a call back as quickly as possible. By acknowledging their issue and offering them a solution as soon as they call back, rather than ignoring the voicemail and having then repeat their problem while on the phone, you will save both of you time and frustration.
Social Media: Social media is unique in that anyone can see it in many cases. Sometimes, very happy or very angry customers will turn to accounts such as Facebook or Instagram to voice their complaints. The worst thing you can do is to ignore these comments- good or bad. If a customer is complimenting you or leaving a positive review, thank them for their business. If a customer is complaining, publicly apologize and ask them to privately contact you by phone or email to resolve the issue. When customers are researching a brand they will often look up social media accounts, and unanswered posts are a red flag for prospective buyers.
Although customer service can have a reputation for being an easy job, it can make or break a potential customer's decision. Give your customer's the respect they deserve by responding to them as quickly and politely as possible, and allowing them to contact you however is best for them.
Reading Time:
3
minutes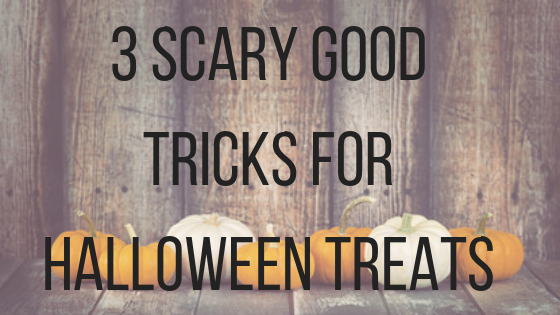 With the holiday season right around the corner, many ecommerce stores are starting their preparations. However, many companies overlook Halloween each year in anticipation of Black Friday and the holiday rush that comes with it. While many of your competitors are likely to focus their efforts on the holiday frenzy post-Halloween, you can get a step ahead by capitalizing on the holiday. Last year the Nation Retail Federation reported over $9 billion in Halloween product sales, Even if you are not selling anything directly Halloween related, there are some tricks to help you treat your customers.
Plan your Halloween period: Since Halloween is on a different day of the week every year, you will want to plan your Halloween campaign around when you are the busiest, and what days and times your customers are most active. While large orders are great, you will want your customer service and website to be prepared to spikes in sales to avoid frustration. Since Halloween falls on a Wednesday this year, you may want to plan for the weekend before as your busiest time for sales. Putting extra emphasis on your promotions, discounts, and advertising will help you make the most of your campaign around this time, when customers are looking for last-minute buys.
Add character: Halloween is a time to dress up, have fun, and be silly or scary. Make sure that the tone of your ads reflect the light-hearted liveliness of the holiday. Most brands will fill their streams with corny Halloween puns and spooky jokes. You do not want to come across as taking advantage of Halloween just to make more sales. Rather, let customers know that you are joining in on the fun with them. Unique, well planned content will grab customers attention and they will be glad that you are making an effort to please and engage with them. Create content that showcases your product in a fun and festive way. Use spooky pictures, silly puns, or any other content you think your customers will enjoy to grab their attention and draw them in. Make sure that you stay age-appropriate for your target customers. Oreo is a cookie that produces different flavors and colors of their signature cookie for major holidays. Halloween Oreos are ones that many fans look forward to all year, claiming that the orange filling makes the cookies taste even better than original Oreos. However, the only place Oreo advertises the release of the long-awaited seasonal treat is a social media post. They did create an ad campaign back in 2014 of a series of short films featuring "nomsters" made in an 1800's style Oreo labratory. They asked the audience for help naming the little creatures, a great way to build a relationship with their customers and gain user generated content.
Offer a promotion: Trick-or-treat is a classic Halloween tradition, and you do not want your customers to miss out just because they are no longer children. So many stores offer specials and discounts around the holidays that you will be at a disadvantage if you do not offer even a small one. Since Halloween is the start of the holiday season, little things such as free shipping or a freebie can help persuade customers to shop your products. Introduce them to products that you think their loved ones would like, and offer a sample size with their purchase or a buy one get one deal. You could even offer a small gift card of $5 or $10 after a certain amount purchased, a deal that encourages them to come back and shop with you again without costing you much money or time.
Although Halloween does not seem like a big ecommerce opportunity, delighting your customers and building a relationship with them by having fun will help you in both short and long term sales. No matter if you are trying to get ahead of your competition, increase revenue, or expand your customer reach, taking advantage of Halloween will help you gain momentum going into the hectic holiday season.
Reading Time:
3
minutes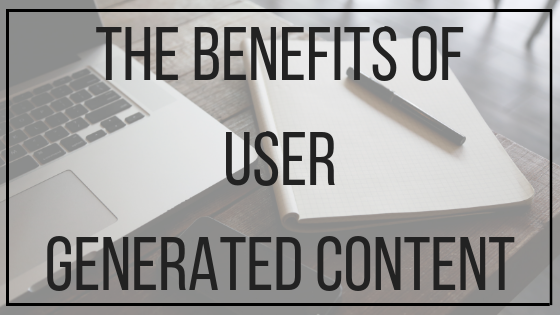 If you work in ecommerce or marketing, chances are you have heard how important user generated content (or UGC) is becoming. Although it has always been important to receive feedback from your customers, with visually rich social media platforms continuing to skyrocket in popularity, user generated content is on the rise. Sharing experiences with your brand or product is appealing to customers, who want authentic and original content. This is especially true of "influencers", a user who strives for credibility in a specific industry (fashion, makeup, gaming) by gaining a large audience who values their opinion. A study by Bazaar Voice shows that 51% of United States consumers trust content generated by other users above any other form of information. While you cannot control user generated content as you can your own marketing efforts, there are many benefits to allowing and displaying user generated content.
UCG helps build relationships: One of the biggest benefits of user generated content is that it helps build relationships. Not only does this allow your customers easy access for a relationship with you, but it also allows them a relationship with one another. Giving your customers a community builds their loyalty to you, allows discussions and suggestions, and helps promote your brand. Authenticity plays a big role in building community as well. Having unscripted conversations, videos, and other interactions add depth to your business. Do not be afraid that user generated content will make your brand look cheap or lazy, rather look for the high quality content users who are passionate about your brand are putting out. You do not have to choose between authenticity and quality, rather encourage your customers to contribute to your brand's story.
UGC helps rid customers of anxiety: Even if your product looks great online, customers want to see it to believe it. Since the closest they can get it virtual images, many turn to reviews to see what advice previous customers have. Especially when it comes to items that are not one size fits all, potential buyers are looking to get their questions answered authentically. People trust people more than brands and marketing schemes, so allowing customers to interact and leave reviews will help rid potential buyers of some anxiety. Reading about the fit of a certain item, how well a product works, or how helpful the customer service team will be if a return or exchange is needed can make or break a customer's decision. If you have social media accounts, especially Instagram, encourage customers to tag your brand in photos or videos of them wearing or using your product, so potential buyers can see they product they are interested in being used by people like them.
UGC helps add quality content: Trying to create content on your own can be an overwhelming task. However, many customers are happy to give you content if you ask for it. With younger customers striving to me social media influencers, they are often willing to leave a review, take content pictures, or even record themselves talking about or using a product. While not all of these pictures and videos will be top quality, chances are you will still have a good number of customers that will send you great content. To get a lot of content, consider running a photo or video contest. Running a contest will get you a lot of free, authentic content, and will also boost your social media presence. Even a small prize and a chance at fame is enough to motivate consumers to enter the contest, and will peak the interest of those who are not as familiar with your brand. Blue Buffalo shows a great example with their "Patriotic Pets" contest. To enter, pet owners simply had to send it a photo of their pet decked out in patriotic gear, with the hashtag "#BLUEPatroticPets". This did not require the owners to go purchase a certain item to take a photo with, rather the hashtag and influx of pet pictures were enough to boost Blue Buffalo's social media and get pet owners talking about the brand. The prize for the winners was a bag of food for the pet, so Blue Buffalo got plenty of free, authentic content to use without having to spend much time or money.
User generated content is a great opportunity for everyone involved. Customers get a sense of community, their concerns addressed by fellow buyers, and your business gets plenty of authentic content and credibility while building a relationship with your customers. Be sure to monitor what your customers are posting to be sure that everyone is being kind and respectful to one another. Encouraging customers to have a voice is essential to grow your brand, so enjoy your growing relationship with them and watch your sales rise.