5 Tips To Step Up Your Email Marketing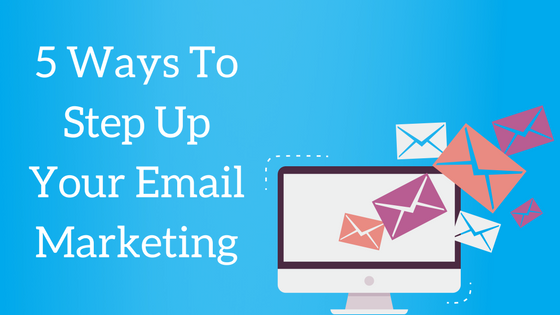 With so many ways to market your company these days, it's no wonder email often gets overlooked. However, a 2018 Radicati Group study showed that there are more regular email users than ever before. Smartphones have made email an easy and accessible way for people to communicate. 91% of email users check their inbox on a daily basis, making it a great opportunity for lead generation. Here are 5 tips on how to make your emails great.
Be mobile friendly: As mentioned, the rise of smartphones has helped contribute to the success of email. If a potential customer cannot access the email from his or her phone, there is a high risk of them deleting the email without reading it, rather than reading it later from a computer. Luckily, most providers make it easy to optimize emails for mobile phones. Many email marketing services, like MailChimp, even allow you to preview how your email will look in different inboxes and on different devices.
Personalize: Customers are much more likely to open an email that is personalized. Putting a greeting with their name in the subject line is an easy way to catch a customer's attention. Another good tip is to send the email from a personal email address, instead of a generic email address (for example. johndoe@yourcompany.com rather than noreply@yourcompany.com). Make sure to sign the email with the name of the team member who wrote it for the finishing touch.
Don't over-email: Customers should be excited to see what new products, upgrades, and deals you have, but if they are constantly being bombarded, they are unlikely to keep opening your emails. An easy solution is to decide how often you want to send out emails, and to make it clear to the customer as they are signing up for your mailing list, so they are not blindsided by a flooded inbox. Another fix is to allow them to change how often they would like to receive emails, or an "opt-down" option.
Have a call-to-action button: Having a call-to-action button, or CTA as they are commonly referred to, helps increase the click-through rate by giving the reader a clear direction to take. You should take into consideration things such as size, design, color, and white space when designing your CTA. Customers are also more likely to click the CTA if you emphasize that they are learning more about the product, rather than asking them to buy or download it right away.
Make sure to track ROI: Tracking ROI helps you learn what content resonated with your customers. It is important to know how many conversions you are getting so you can change and improve your email campaigns to better suit your customers. Things to look for in tracking ROI are click-through rate (the percentage of links clicked in the sent email), conversion rate (the amount of people who completed the call-to-action), bounce rate (how many emails did not get delivered), list growth rate (how fast your email list is growing), email sharing (how many people shared on social networks or forwarded the email to someone they know), and total ROI (the amount of money earned vs spent on the email campaign). Open rate is something that many marketers keep track of as well, however, it has shown to be misleading. Once the customer opens the email, they also have to allow all images to be shown to count as "opened".
Using email marketing properly can help boost your company's sales quickly 
and easily.  Make sure you're smart about what metrics you are tracking, 
what content your audience likes and your overall ROI goals, and you will be on
the right track to email success.