5 Tips To Improve Your Search Engine Optimization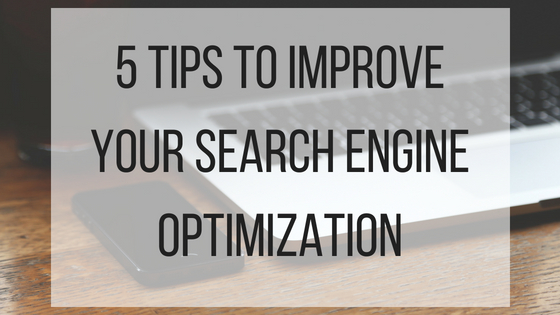 Any company that has a digital presence knows how important it is to drive organic traffic to your company's website, and this is especially true for ecommerce companies. Filling your customer's needs with a product or solution is a significant part of your company's success, but you need to be able to reach your target audience in order for your company to thrive. While traditional marketing efforts such as email campaigns, affiliate marketing, and social media are still very effective, sometimes they are not enough. Making sure that your website is optimized for search engines will increase relevant traffic and help increase sales. Here are 5 tips on the best SEO (search engine optimization) practices.
Have a good meta description: A meta description is the little snipit that summarizes the page's context. Meta descriptions are one of the most important ways you can get your site index and rankings up. With so many competitors, having a clear, concise meta description and title helps put you ahead in search rankings. Typically meta descriptions consist of 160 characters or less. This allows potential customers to get an idea of what your web page has to offer before visiting the site to get an idea of if it is relevant to them or not. Because the meta description is often the customer's first impression of the web page, use your 160 characters wisely.
Use keywords wisely: Google uses an algorithm to decide what pages are most relevant to their user's search queries. Make sure when optimizing your pages for SEO, that you include key terms that users will search for. You might have the most relevant content, but if users cannot find your website on a search engine, your great content will be irrelevant to them. Using keywords that are unique and relate to your content will help boost to you the top of searches, and allow more users to see your web page. If Google picks up that you are copy and pasting the exact same content on to all of your pages, your SEO will be penalized.
Use internal linking: Internal linking is linking another page from your website to another. This is important because it allows search engine algorithms to see these keywords as stronger. It also allows you to give users easy access to other pages on your website that are relevant to them. By having an internal link, they are more likely to visit other pages than if they had to browse your site on their own to come across the information.
See what works for your competitors: If your competitors are ahead of you in your search rankings, chances are they are doing something you are not. Using websites such as Monitor Backlinks help you see what websites are linking to your competitors,so you can find a way to get on the websites that they are on and you are not. Learning from their techniques helps you boost your own company by seeing what potential customers are looking for, and where they are looking for it.
Write high-quality, relevant content: Although this should go without saying, it is important to remember to give customers the content that they are looking for in order to do well in SEO. Typically, customers are searching these three categories: I want to do something, I want to know something, or I want to go somewhere. When users search these topics, Google ranks them by relevancy, then by popularity. By creating high-quality, relevant content, your web pages are likely to reach the top of the list, allowing more users to find your website.
SEO is always changing, so it is important to stay up to date on Google's algorithms and policies. If you keep producing relevant products and articles, you will be able to expand your companies reach and bring in new customers. SEO is something that is fairly simple to do and invaluable for your business.