Personalizing Your eCommerce Store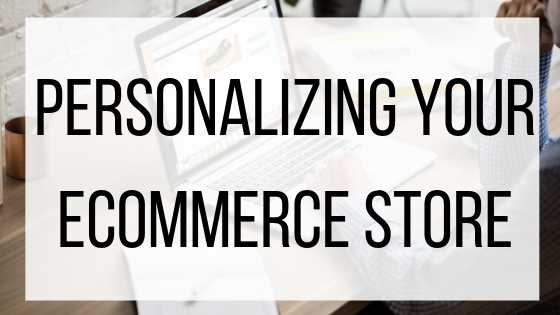 Creating unique shopping experiences can be especially challenging for eCommerce stores. Although all of your customers fit into a demographic that needs or wants your product, each of them are individuals who have their own particular habits, desires, and qualities. Especially with larger companies, it can be difficult to make each customer feel valued for who they are. Using personalization tactics helps you speak to customers in a meaningful way, and shows them that you appreciate them choosing to have a relationship with you. Even though you probably will not get to know the majority of your customers, there are ways you can personalize your website and marketing tactics to best display relevant content for each individual.
Create Specific Landing Pages:
Making a specific landing page works best when you are running an ad or promotion targeted at a certain demographic. Say you are running an ad featuring a new product. You could create a link to your homepage, likely resulting in a frustrated customer who is not willing to look around your website for the product. However, if you create a landing page for that product, it will most likely result in a happy customer and a sale. The same concept goes for promotions. Make a landing page for the specific link you are sending to customers to make it as easy as possible for them to make a purchase. Your customers have busy lives and their time is valuable, so once you grab their attention make sure to welcome them to the page they were looking for right away.
Product Recommendations:
A very popular and effective method to personalizing eCommerce stores is by offering recommendations to customers. Tell them what products pair well with the one that they are looking for, or what other customers bought with that product. For example, say a customer is looking at a specific shirt on your website. Lower on the page, offer suggestions for bottoms or accessories that you think they would like that they might not have seen or thought of. This is a very effective way to introduce customers to new products and drive sales.
Continue Shopping Feature:
If customers leave an item in their cart, or view an item on your site without purchasing, have it readily available next time they visit. Chances are they have been thinking about it if they returned to your site, and having easy access to it encourages them to make the purchase. Even if they forgot about the item and came to your site looking for something else, they will be reminded that they were attracted to it previously. When done correctly in a friendly manner, this is one of the most valuable tactics to drive sales.
Personalized E-mails:
There are a few methods for personalizing your e-mails. If a visitor shared their e-mail address with you, it is perfectly acceptable to reach out to them via personalized emails, as long as they have the option to unsubscribe. E-mails are a great way to market directly to customers. Once you have a customer's e-mail address, you should also have their name. This means when you send them an e-mail, you need to use that information in the subject line and body text. Using the customer's name reminds them that they gave you their information and they are interested in what you have to offer.
There are a few types of e-mail you can send out. One common method is to send a "we miss you" e-mail to a customer who hasn't purchased from you in awhile. Consider offering them a small one-time discount code to encourage them to return to your store. Another method is an "abandoned cart" email. These emails remind your customer that they left items in their shopping cart, and they are sitting there waiting should they choose to return and purchase them. Do not be pushy with these, as you want to be helpful and not come off as aggressive. Possibly the most common type of e-mail is a conformation email. Thank the customer for their order and confirm that you are processing their purchase. Most people will look for these emails, so be sure to send them out.
Making an effort to personalize for your customers helps add a human aspect to shopping with you, which they are sure to appreciate. Building relationships with your customers is one of the most rewarding ways to run your business, so use these and other tactics to please your customers.