Creating An About Us Page In 4 Steps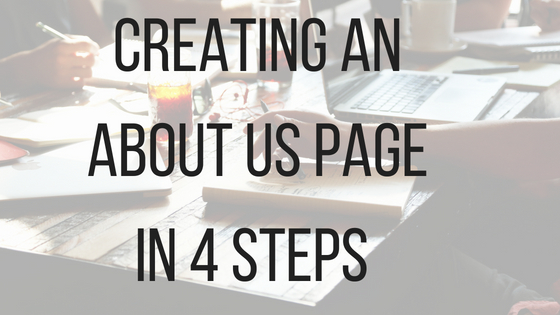 Building a website is not only an excellent way to show off and sell your product, but a great way to let customers get you know you as a brand. While getting to know someone in person can be difficult, getting to know someone online provides even more of a challenge. Thankfully, creating a well-written, informative About Us page for your company allows customers and potential customers to connect with you virtually. While many companies do not answer the questions customers are looking for in their About Us pages, or do not include an About Us page at all, having quality content can help boost and help customers feel a connection with your company. Here are four tips to help you show off your brand in the best light possible.
Make sure to promote your company without boasting too much: If all you talk about on your About Us page is how great your company is, customers are going to question the validity. Your company's accomplishments are something to be proud of, and it is good to make customers aware of them, but do not let that be the only part of your About Us page. Share some information about when you were founded, the company size and culture, projects, and clients. By giving customers a look into a more personal side of your company, they are likely to feel more of a connection. Think of writing your About Us page as telling the story of your company. Use a tone that reflects your brand, make sure it lines up with the rest of your website, and is a good mix of accomplishments and company history. Tiny Coffee House does an excellent job of accomplishing a good balance of these components.
Have balanced visuals: People have different preferences- some enjoy watching videos, while others would prefer to read about a topic. Having a balance of pictures, videos, and text is crucial to having an ideal About Us page. Creating a video to display on your About Us page is eye catching, and a great way to show off your brand's personality. It allows you to show website visitors around your office or production areas, introduce them to a CEO or President of the company, and give them a taste of how creative your company can be. If you choose to make a video for your company, make sure that is not the only medium on your page. Being able to fit all the information you want to share about your company in a short video is quite a challenge, and having a video longer than two minutes is one customers are less likely to watch. You can also share pictures of your office, culture and employees, or share info graphics. A couple of paragraphs about your company, who you are, and your mission are also good to include. With the mix of different mediums, you are sure to catch customer's attention and show them the information they are looking for.
Use a Call-To-Action: Conversions are not something to be overlooked, and your About Us page is a great opportunity to invite potential customers to take action. While potential customers are vising your page, they should have access to links to your social media accounts (invite them to view and follow all of your pages with easy access links). In addition, invite them to sign up for a newsletter if your company has one, or an email list. Allow your About Us page to drive your visitors to other areas of your website as well, and remember to have call-to-actions throughout. Creating links to other pages in your website, or previous blog posts, also encourages visitors to explore your website and get a better feel of the company.
State facts: Do not claim to have something that you do not. Let customers know why your product or service is the best, and play up the best parts of your company. Misleading customers, even if you are not actually lying, is certain to drive customers away and get your company negative reviews. Instead, play up your strengths. Choose the areas where you shine and explain why you are the best choice. Customer testimonials can also be included, to let potential customers read unbiased reviews. Showing your website visitors that people like them are pleased with your product is a good way to help you gain trust and credibility.
Remember, your About Us page is a chance to connect with potential customers (or even someone interested in working for your company) so let your personality as a brand shine through. Make sure you are informative, positive, and filled with value to the customer. Your company is great, so do not be afraid to get creative and give customers a look behind the scenes.