5 Customer Service Channels Every Business Needs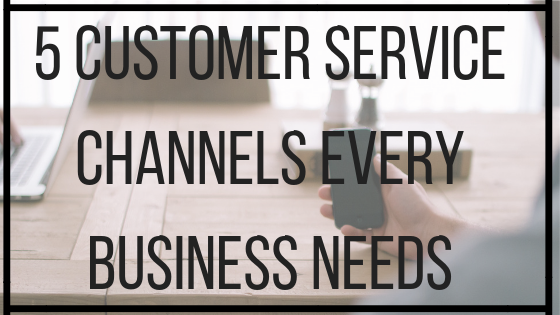 Customers are at the heart of every business, no matter how large and established or small and new. And while you do your best to provide the best possible product or service for them, once in awhile things go wrong or a miscommunication happens. Some customers will be understanding while others may lash out in confusion or frustration. The best way to handle situations gone wrong and to keep customer loyalty is to ensure that you have open lines of communication through various channels to meet customer needs. Here are five important customer service channels that every company needs.
Frequently Asked Questions: Commonly known as FAQ's, having one of these pages on your website can help you and your customer save a lot of time. Typically, customers will contact you if they need answers that they are having a hard time finding on their own. While some customers feel more reassured getting an answer directly from a customer service representative, the majority are happy to find the answer for themselves on your website or social media channels. Research common questions customers ask about the type of product you sell, and look into FAQ pages on competitors websites to get ideas. Even if you are just starting your business, an FAQ page will be beneficial to you. Make sure your FAQ page is organized, states answers clearly, and offers other ways to get in touch if the customer's question is not answered above. As your company grows and develops, update and add to your FAQ page.
Email: Email is a classic, easy way for customers to get in touch with you. In the age of smartphones, email is easy for customers to access at any time. It allows them (and you) to communicate in an asynchronous way, which is convenient for both parties. Email communication also helps you easily keep track of customer conversations. This allows you to measure satisfaction, how quickly the issue was resolved, and feedback about the interaction. Make sure you take note of how the email conversations go so that you can continue to better your customer service and ensure that problems are solved as quickly as possible. Customers who do not need an instant response will often turn to email as their preferred method of communication, so make sure to offer a timely and helpful reply.
Live Chat: Live chat is a wonderful way to provide quick, accessible help. Live chat is perfect for customers who need a quick response (so they do not wait to wait for an email) but do not have the time for a phone call. Live chat can potentially allow for the customer to multi-task as well, and allows you to search for answers and send helpful links more easily than over the phone. Consider what page or pages you'd like to add the live chat. Unless you are a large company that offers 24/7 customer service, you will also want to set up an away message stating your office hours, and when you will be able to get back to the customers. Some chat services such as Tidio Chat will send you chats sent during off hours as emails. This option still sends the customer the away message, but allows you to respond to it from your inbox as an email.
Phone Support: Sometimes customers will be confused or frustrated, and want to talk to a person on the phone for immediate, step by step help. Often, older customers also prefer this method, as they are not digital natives and speaking to a person is more familiar to them. Do your best to answer the phone when customers call, even if you are working on something else. If you do miss a call and they leave a voicemail, try to identify their solution and give them a call back as quickly as possible. By acknowledging their issue and offering them a solution as soon as they call back, rather than ignoring the voicemail and having then repeat their problem while on the phone, you will save both of you time and frustration.
Social Media: Social media is unique in that anyone can see it in many cases. Sometimes, very happy or very angry customers will turn to accounts such as Facebook or Instagram to voice their complaints. The worst thing you can do is to ignore these comments- good or bad. If a customer is complimenting you or leaving a positive review, thank them for their business. If a customer is complaining, publicly apologize and ask them to privately contact you by phone or email to resolve the issue. When customers are researching a brand they will often look up social media accounts, and unanswered posts are a red flag for prospective buyers.
Although customer service can have a reputation for being an easy job, it can make or break a potential customer's decision. Give your customer's the respect they deserve by responding to them as quickly and politely as possible, and allowing them to contact you however is best for them.