Use Live Chat To Boost Your Brand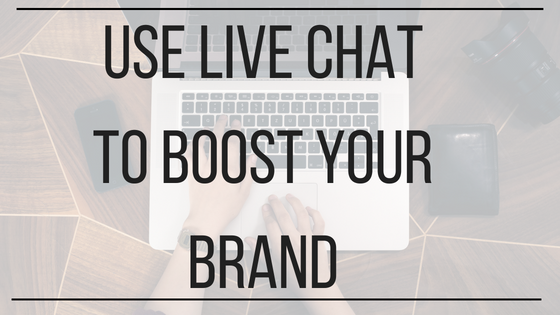 With the convenience of today's digital world, customers expect to be able to get a quick, convenient response from companies. Although realistically, you cannot be available 24/7, adding a live chat feature to your website can help customers contact you during business hours. Adding a live chat can be a bit intimidating, especially for companies that are used to communicating via email, where you are not expected to respond in real time with speedy replies. However, adding this convenient source of communication can boost your customer support more than you might realize.
Adding a live chat to your website does not mean you are required to have someone running it at all hours. Customer service representatives are human, and they will have a life outside of sitting behind a chat box. However, if you can integrate this feature during certain hours of the day, it can save both you and your customer a lot of time and hassle.
Where should I add a live chat? Your live chat does not need to be featured on every page of your website. Some websites may choose to have a live chat option on the "Contact Us" page, while others may choose to have the chat option on the side bar of any page the customer visits. If you choose not to include the chat on every page, think about issues your customers typically have and what pages they would turn to for answers. For example, if you have a "returns" page, that would be a good place for your chat. Often, customers have questions about shipping returns, what your return policy is and how long they have to return and item, questions about returning damaged items, etc. By adding a live chat feature to the page, you can quickly communicate with customers to ease their minds and help them solve their problem quickly and efficiently.
How do I use live chat without adding more work for my business? The best part about live chat is that it allows your customer service representative, and the customer, to multi-task while chatting. While you do need to give the customer the quickest response time you can, it allows you to search for their answers on your website, or ask your supervisor or a colleague if you are not confident of the appropriate answer. Often, customers can be re-directed to an area of the website that will help answer their questions. Unlike phone calls or email conversations, it is fairly simple to direct a customer to areas of you website through links sent via live chat. If you are getting a lot of similar questions from different customers, it may be beneficial to look into re-designing your website to be easier to navigate. The goal of your chat should be to answer questions quickly and efficiently, without further confusing the customer.
How does live chat benefit the customer? As mentioned previously, one of the biggest benefits of a live chat option is that customers can multi-task while at work. Say a customer has a question or needs immediate support, a live chat will give them the option to speak directly with a human quickly without disturbing anyone else around them. With a phone call, they get the same human interaction, but at the risk of interrupting others in their office (or wherever else they might be working) and e-mail interactions are more delayed. Live chats typically feature shorter, more conversational answers, which allows the customer to clarify that their needs are being met throughout the conversation. It also allows them to ask more questions as they arise, letting you get a better understanding of their goals, and their thoughts on your product or service. Remember to treat the live chat as a "real world" conversation, and do not leave customers without a response for several minutes. If you do need to step away from the live chat, make sure that you are not in the process of helping a customer, and set up an away message to let them know that no representative are available at that moment.
Live chat is a great option for many companies. If you choose to add a live chat to your website, make sure that you pay attention or set an alert so that you do not miss any chats, and personalize the chat box. This includes adding your company's name, a welcome message, and ensuring that the colors coordinate with the rest of your website. Although it might take a little bit of adjusting, live chat is beneficial for both customer service representatives as well as customers, and it helps to make everyone's lives easier. Make sure to check out BMT Micro's new live chat option if you have any questions or wish you speak to a customer service representative.