4 Tips To Get Your Ecommerce Blog Started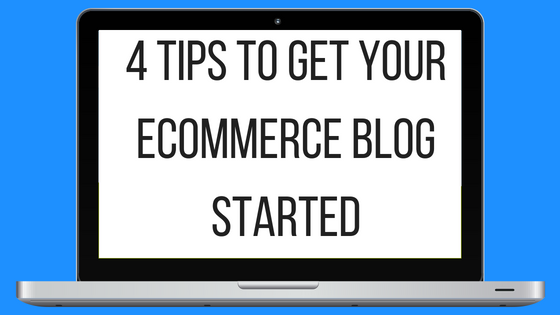 Blogging is a quick and easy way to drive traffic to your website and keep relevant content that has customers checking back for more. Keeping a consistent blog also helps your ranking in Google searches, as your customers will be searching for you to see what new ideas and tips you have. Writing a blog helps give your brand a voice, and allows you to share what you think is relevant and helpful information in your industry. Having a blog drives traffic to your website, helps convert visitors into customers, and increases your chances of engagement. Here are some tips on how to get started on your own blog.
Create good content: This may sound like a no-brainer, but it is important to keep your content relevant to your customers, instead of only writing about topics of interest to you. Many customers look to blogs to answer a question they have, or to learn more about a company or industry. Take into account what your target demographic is, what kind of customers you want to draw to your site, and what they are most likely looking for. You can look at questions that your company frequently gets asked, or topics that seem to confuse customers. "How-to" content is also popular, as often visitors will come to your blog to figure out how to do something they think you are an expert on. Lowe's Home Improvement does an excellent job of demonstrating this, as they have blog topics on a variety of ways you can use their products to help better your home. Check out your competitor's blogs to see what they are writing about and how audiences are responding. This can help give you ideas on trending industry topics, as well as topics that are outdated.
Make it aesthetically pleasing: Like the rest of your website, your blog should look good. This is a chance for you to show off your creative skills. Make sure that the blog matches the rest of your website- use the same color scheme, fonts, etc. However, you can have a little more creativity with your blog, as it is changing so often. Try adding videos, pictures, info-graphics, title banners or GIF's to your posts to make it stand out. Do not go overboard with the additions, however, as you want reader to focus on your content rather than just the pictures or videos you've added.
Optimize for SEO: Search Engine Optimization, or SEO, is important to make sure that customers can find your blog more easily. Most blog sites make it simple to optimize for SEO when you are editing your blog. Adding tags to your post is the first step. Make sure to add any relevant tags to make your blog easier to find on search engine rankings. For example, if you are writing a blog about How To Improve SEO, some tags you could use would be SEO, Ecommerce Tips, and Digital Marketing. The next step is to make sure that you have a solid meta description. A meta description is a few sentences that will show up under the title when customers find the blog on a search engine. This allows them to see what the blog is about. The last step is to make sure that your blog is easily accessible from your website and to include hyperlinks. The easier it is for you to access your blog post, the easier it will be for search engines and customers to find it as well.
Consistency: Posting a blog a certain number of times per week will encourage customers to keep up with your blog posts. If you post frequently, you will gain a following on your posts. Try committing to one day a week to post a blog around the same time. Starting off strong with your blog and letting it fade out is a big mistake that entrepreneurs make. If you have a large company with many employees who are willing to write quality content, you might want to post more frequently. However, if you do not have many people willing to write, once a week is a good starting point. Looking into freelance writers is also an option, as long as they are willing to familiarize themselves with your company and industry.
If you or one of your employees or coworkers has a knack for writing, keeping a blog is highly encouraged. It is an easy and helpful way to bring in new customers and to keep your current customers happy. Blogging is a way to build authority as well as a genuine way to help people. Often, potential customers will return the favor by purchasing from your company. Blogs can be fun to write and help to show off your brand personality, so use the steps above to get started and watch how it will help your business grow.