How To Use Affiliate Marketing To Help Boost Sales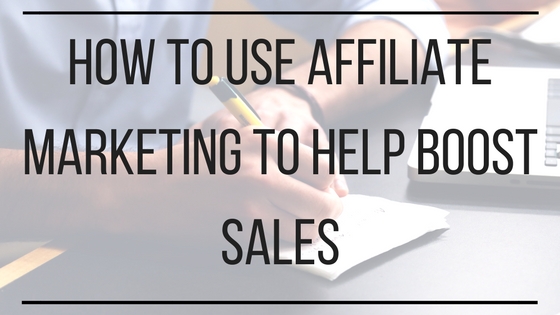 Ecommerce companies are always on the lookout for new ways to promote their businesses and get the word out about products. One method of advertising that is rapidly gaining popularity is affiliate marketing. Affiliate marketing is both simple and effective. There are two basic ways to make money online: Sell your own products or make commission helping someone else sell their products. Affiliate marketing falls under the second category.
How does affiliate marketing work? Affiliate marking is fairly simple. If you have a website that sells a product, you can have affiliates team up with you to spread the word and help promote your product. An easy way to get started with the process is to set up a page on your website for people who are interested in becoming affiliates to contact you. You can also reach out to people who you think would be a good fit to work with your company. These people are usually bloggers or social media influences who already have an audience that you think would be a good target audience for your company. When starting an affiliate program, it is helpful to make an announcement on the home page of your website, as well as social media accounts such as Facebook, Instagram, Twitter, and LinkedIn. Make sure your contact information is clear and easy to access.
What does an affiliate do? Affiliates are responsible for promoting products or services on their personal channels. Successful affiliates already have a large following on their own social media accounts. Instagram, YouTube, and Facebook, are all especially popular platforms for affiliates. Many affiliate marketing programs will give affiliates a code to pass along to their followers for some kind of discount (for example, free shipping for 10% off). The affiliates will then get a percentage of the sale. Having affiliate codes is also a good way for companies to keep track of how many sales each affiliate is driving. One of the best things about this method is that often the affiliate can show their followers how they incorporate the product into their daily lives. For example, BarkBox has an affiliate program that allows people with popular pet blogs or Instagram accounts to share pictures of their dogs with the toys and treats they've gotten from BarkBox. The affiliate's followers see the fun other dogs are having with BarkBox, and think of how it would be a fun present to get their own dogs. The affiliates include a BarkBox link on their profiles to earn commission off of followers who sign up through them.
Bloggers also make great affiliates. Companies will send the blogger a product they would like them to review. The affiliate will then test it out and write a review about the product, posted on their personal blog. Blogs are often written in a casual tone, making them easy to read and more persuasive than a traditional marketing campaign. Affiliates will discuss what they like about the product and encourage their readers to try it out for themselves. Non-physical products can use affiliates as well. Informational products and service products often have affiliates programs. Informational products are websites that help customers learn new skills, such as ebooks, online courses, or webinars. Service products are services you can offer to customers, such as business plans, or public relation strategies.
With any kind of affiliate marketing, it is important to make sure that the affiliate lets their audience know they are making commission off of the sales make through their links. Don't forget to include a call to action as well.
How can I tell if affiliate marketing is right for my company?
Keep in mind that while affiliates do help drive traffic and sales, they also take commission from what they help you sell. If you are a new business that is just starting up, affiliate marketing might not be very beneficial for your company just yet. However, if you are an established company looking to expand your audience, teaming up with affiliates could be valuable. A good way to tell if affiliate programs are useful in your market is to run a quick search to see if your competitors offer them. If they are running affiliate programs and they seem to be working, it is worth looking further into. If your competitors do not appear to have affiliate programs, then it might be best to not use this method.
Although affiliates do take a commission of your sales, having them team up with you can open up your business to a whole new audience. Many social media influences have loyal followers who trust them as experts, so having them spread a positive word about your product can be beneficial to both you and them. BMT Micro has an affiliate program available to our vendors. For more information please contact vendors@bmtmicro.com and to sign up please visit our new affiliate page.