The 4 Best Social Media Platforms To Help You Boost Sales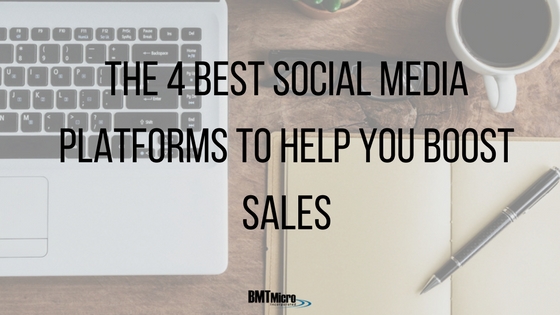 Imagine having a way to quickly increase your company's website traffic, brand recognition, and even sales- for free! With Social Media Marketing, you can do just that. Here are 4 of the best platforms to join:
1)Facebook: Facebook has over 2 billion monthly users, driving 25% of social media referral traffic. By creating a Facebook page for your business, you are not only able to list all of your company's information in one place (such as contact information, a website link, and business hours) but you have a place where customers can interact with you directly through posts and messages. As a bonus, if a customer shares a post or "likes" your page, it is automatically shared with their network, reaching thousands of potential new customers for you, with no effort on your part! Businesses can also run advertisements on Facebook for a specialized price, based off of your budget and target audience.
2)Twitter: While traditionally Twitter was known for having a younger audience, that has changed in the past few years. Since Twitter is a way to get quick, immediate update, companies have started utilizing the platform to reach audiences of all ages. Studies have shown that 47% of people who follow a business on Twitter visit the brand's website. Tweets are also a great way to get a message out to a large audience quickly. Similar to Facebook's "like" feature, Twitter allows you to share tweets to your own network by liking, quoting (an easy way to tag a friend in a tweet you would like to share with them) or "re-tweeting" (re-posting the tweet to your own timeline). In addition to simply tweeting, you can pay to run a Twitter campaign featuring a promoted tweet or profile.
3)Pinterest: This platform is unique in that it primarily targets women. However, with 175 million active users, it is not one to overlook. One of the best things about Pinterest ads is that they do not distract or annoy users, since they blend in with pins the potential customer is already looking at. Because of this, the audience on Pinterest is very receptive to shop external websites. With everything from financial tips to travel planning to recipes, Pinterest is grounds to a wide variety of information, making it a great fit for most companies. To excel in Pinterest advertising, make sure that your pins line up with what is on-trend and are very detailed in the description and hashtags. Don't forget to engage with your audience as well and have some "fun" boards (such as style, treats, or DIY crafts) to expand your reach and make your account more pleasurable to follow.
4)LinkedIn: Often described as "Facebook for jobs", LinkedIn is a perfect place to show off your company and what sets you apart from your competition in a professional setting. With 75% of users making over $50,000 a year, this platform attracts users with the highest disposable income. Typically, LinkedIn users are looking to expand their professional network or to learn more about a certain field, making them a good target audience. There are three types of LinkedIn ads: Sponsored content, Sponsored InMail, and Text Ads. LinkedIn has a guide to help you choose which type of ad is best depending on the type of audience you want to reach (advertise to a wide group of professionals, send personalized messages, etc). They even have a Campaign Manager feature to help you utilize your ads in the best possible way for your business.
BMT Micro can help you provide a speedy, reliable payment process for all of the new customers you get using these social media tips. If you would like more information about our platform, you can sign up here or email vendors@bmtmicro.com. And make sure to check out our Facebook, Twitter, Pinterest, and LinkedIn pages.