How To Use Social Media To Boost Search Engine Optimization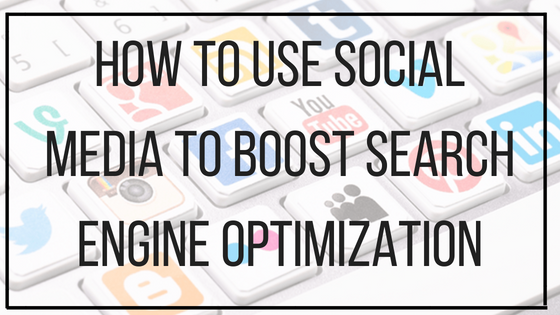 For many business owners and marketers, it can seem like there is a large divide between search engine optimization (SEO) and social media. However, that could not be father from the truth. While SEO and social media are not the same thing, using them to work together creates value and relevance for your target audience. A well thought out digital marketing plan should include SEO and social media working together to boost one another. Here are 5 tips to use to get started using social media to boost your SEO.
Use social media to drive customers to your website: Using social media accounts such as Facebook, Instagram, or Twitter can introduce new customers to your product or service, encouraging them to visit your website. Not only will this potentially increase sales for you, but it can boost your SEO ranking on Google. While Google keeps pretty quiet about how to get your website ahead in search rankings, they like to offer customers the most relevant content to their search. This means if you are getting more website views, Google will start to rank your website as more relevant and you will start to move up. If you are using "sponsored" or paid ads on social media, you will start to turn up more on customers' other social media channels that they have linked together.
Build engaging social media content: Now it is easier than ever to get feedback from your audience on social media. While you do not want to make every post a poll or survey, asking questions every so often gives your audience a chance to interact with you and voice their opinions. It is also an easy way to collect data on what your customers like or don't like, as well as their opinions on certain topics. Twitter polls are easy to create and show voters the poll results after they submit their answers. Instagram has a new feature on their stories where users can opt to ask a question and be given an answer, which is then posted for everyone else to view anonymously. Facebook and Instagram are both useful for posts where businesses ask a question in the caption and ask users to answer in the comments, and can even lead to conversations between customers. If you choose this method, it is important to moderate the comments to make sure that everyone responding is being respectful of one another so that all involved feel comfortable and safe voicing their opinions. By asking questions and starting discussions, you are creating a sense of community and helping drive traffic to your accounts, all of which will boost SEO.
Brand awareness helps SEO: Brand awareness is a great way to increase SEO, and social media is great way to increase brand awareness. Customers are more likely to trust a brand that they have heard of. They are also more likely to search a brand that they have heard of. By putting time and effort into your social media accounts, you are helping to increase your brand awareness. Running some social campaigns such as the Share A Coke campaign gets people talking about your product, and drives traffic to your social accounts and websites. Social media acts as a search engine of its own, with customers searching for business accounts to get a feel of the brand's personality, as well as reviews from other customers and company updates. Using analytics on your social media accounts can help you collect more data to see what kind of posts customers are resonating with, and keep track of when you rise or decline in page views and interactions. Building a strong, unique brand image will help you create brand awareness and drive traffic to your website.
Form strong relationships: Social media revolves around relationships, so make sure that you have a strong connection with your followers. A good reputation will get you more website views, social media profile views, and will get customers talking about your company in a positive light. This will help boost your SEO by having your company's name come up higher in keyword searches, especially when your name is ranked with other positive keywords. Affiliate marketing can help you spread the word about your brand, by using brand ambassadors or partners who have a social media following to promote your product. Typically, brands will send their affiliates a free product, which the affiliate then shows themselves using with a positive review. By teaming up with the affiliate, your outreach has dramatically increased, and your brand name will be linked to the affiliate's in keyword searches.
When used well, social media can dramatically boost your SEO. By using social media to reach out and make connections, you can forward those efforts to increase your SEO. Using a strategic approach to collaborate the two can make your efforts go far with amazing results.