Exciting Ways To Market Your Boring Business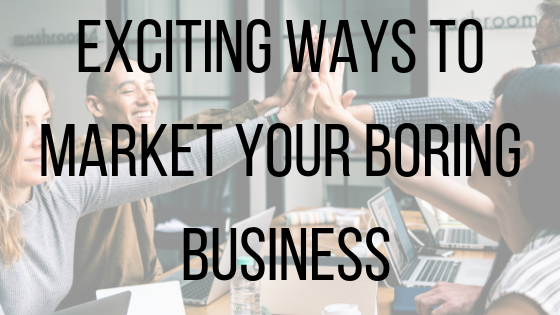 Having a "boring" product or service is a major challenge to marketers. Some products, such as clothing, food, or home goods, are naturally easy to photograph and present. Others, such as financial services, necessities, or insurance can be difficult. Just because your product is not exciting on the outside does not mean that your advertising and company need to be boring. Use creativity to your advantage to get customers engaged, no matter what your product is.
Educate your audience:
There is a reason your stand behind your product, and a reason customers keep buying it. Chances are if your company is less exciting, customers are not going to go out of their way to learn all of the products you have. Using a humorous approach is a great way to teach people about all you have to offer, and introduce them to helpful products they might not have found on their own. 3M Canada entertains their audience with humorous commercials educating everyone on all of the products they make, aside from Scotch tape. If your company does want to take a funny approach, focus on inspiring your customers, sharing your backstory, or giving customers a glimpse into your culture.
Use affiliates:
Affliliate marketing is a tried and true way to catch an audience's attention. If you can afford a celebrity affiliate, take advantage of their voice. Esurance made a Super Bowl commercial in 2014 featuring actor John Krasinski where he discussed how much money Esurance saved by purchasing the first commercial after the game, rather than one during the game. He then went on to explain that Esurance saved 30% by doing that, and they save their customers 30% daily. The use of the Twitter hashtag #EsuranceSave30 was encouraged, and the whole campaign was a huge success. Companies that have smaller budgets can still take advantage of affiliates by using local influencers who are famous in the community. Offering products in exchange for positive reviews and exposure is a deal many smaller influencers are willing to make, and you will still be able to reach a whole new audience. Using local influencers is very common because it has a very high success rate- think of local television, buses, and billboards featuring locals on them. It works well in those advertisements and just as well on social media.
Create a series:
Creating a mini-series can help get your audience excited and invested. A series shows off your creativity and turns a potentially boring product into an exciting one. Blendtec sets a good example by creating a series called, "Will It Blend?" where they feature their blenders attempting to destroy different items such as phones, marbles, and silly putty. Not only did they create an entertaining and inventive way to grab attention, but their videos also show off how well their product works. Dollar Shave Club also made a creative mini-series in addition to their other videos, titled "The Trick To An Amazing Shave". In only 15 seconds, they show off how easy it is to change your razor blades with their razors in very exaggerated situations.
Just because your product is traditionally thought of as boring does not mean your advertisements have to be. Use these methods as well as your own to show customers that your company has a good sense of humor, passion, and uniqueness that sets you above competitors and surprises your audience.