How To Drive eCommerce Sales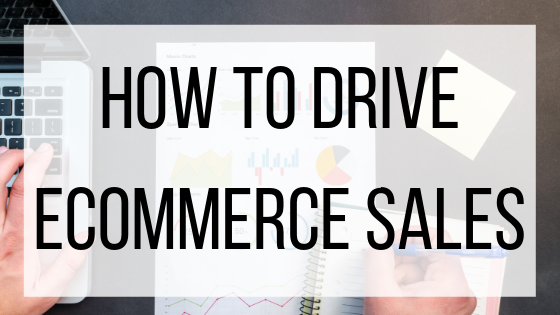 As anyone who works in eCommerce knows, driving sales is always a top goal of any company. Every company goes through its ups and downs in sales, but it can get discouraging to see a plateau or decline in business. These days, it is easy to quickly build an eCommerce site and not put much effort into driving sales and website upkeep. Even if you are not looking to largely grow your company, driving sales is an important part of keeping your business alive and relevant. Follow these tips to make sure you stay on track.
Make Your Site Built For Conversions:
There is a lot of thought and effort behind any well-designed website. If you are looking to drive sales, make sure your website is clean, creative, and represents your brand. Having too much clutter makes it hard for customers to find what they are looking for, and they will get frustrated and leave. It is perfectly fine and even encouraged, to have some aspects (such as navigation) be predictable. Having certain parts of your website too creative will confuse customers who are there looking for something specific, rather than browsing. Make sure that everything on your website is useful (no fluff) and everything is clearly labeled and easy to find. Look into top leaders in your industry and your main competitor's pages to get inspiration. Take ideas that you like from their websites and incorporate them into your own.
Show Visitors That You Are Trustworthy:
With the rise of online fraud and theft, customers are rightfully concerned about who is getting their personal information. There are many scam sites that pose as great deals, so customers are learning to be savvy about where they can spend their money safely. Add an SSL certificate (a Secure Sockets Layer) to show customers that you take their safety seriously. Dedicating a page to your Privacy Policy and brushing up on fraud prevention tactics will also help reassure them that their personal information is safe in your hands.
Use Paid Ads:
Many platforms, such as Google and Facebook, allow you to pay for ads on their sites. These advertisements are typically fairly easy to set up and customize. If you choose to use targeted ads, start small and see what works best for you before dropping a lot of money on advertising efforts. One of the best parts about using these types of advertisements is that you can choose whatever budget you'd like to spend and reach demographics you might not reach otherwise. It also helps you remind customers who might have forgotten about you to come back to check out your website. Paid ads also track your analytics, so you can see who is or is not responding to your ad. If you don't get an overwhelming response on your first try, do not give up hope. Sometimes the first ad is more of a learning experience, and you can see what your analytics said and know what to aim for the next time. Once you run a few ads and are confident, then you can consider increasing your budget.
Target Your Current Customers:
You might think you need new customers to drive sales, but the truth is your current customers are your biggest advocates. New customers are more likely to trust those who have shopped with you before, so take good care of the customers you have now and remind them that you are still here, and have what they need. Once customers have a good interaction with you, they are much more likely to trust you and return to you for future purchases.
There are many additional methods for helping you drive sales, so keep track of what has worked for you in the past and what hasn't worked as well. Each industry and individual business is different. Testing out various methods and seeing what makes the biggest impact is the best way to drive sales.