Simple Steps To Fraud Prevention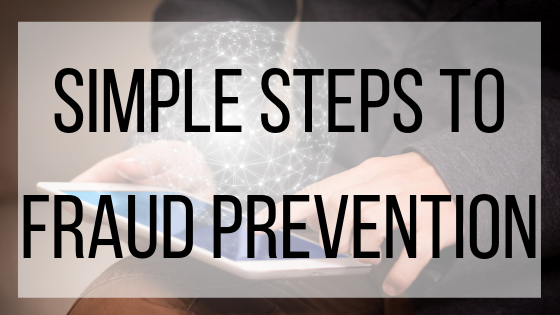 Having an ecommerce store is a good idea for many reasons- it is convenient, allows you to expand your audience, and can save you time and money. One of the biggest drawbacks to having an ecommerce store, however, is the issue of online fraud. As a merchant, you are responsible for the fraud. Fraudulent charges are a hit both monetarily and to your reputation. While smaller businesses are usually more of a target, it can happen to any size company. Being aware and educated on fraud prevention helps prevent you and your customers from taking a hit.
Types Of Online Fraud:
There are two main types of online fraud: Account Takeover and Identity Theft. Account Takeover is when fraudsters trick customers into revealing their information so that they can access the account. Typically they will then change the password, and make unauthorized purchases. Identity theft is when the fraudster is able to hack into the system and steal personal information, such as credit card information, passwords, and usernames. Often times, this information is sold to other scammers who use the information to create new accounts and make purchases for themselves. Both of these are hard to detect unless customers are diligent about checking their bank statements, where they would see the charges.
Risk Management:
It never hurts to be extra cautious when it comes to monitoring your orders to ensure customer safety. Even if you have to contact customers for conformation that they did intend to place the order, they will appreciate the extra security measures you are taking to keep them safe.
One of the most simple ways you can track fraudulent activity is to keep an eye on the address that orders are being billed and sent to. While it is very possible that the customer is sending the order to a different address intentionally, that can also be a red flag. Additionally, if you receive a large purchase from a first time customer, that is also a red flag.
Be cautious of orders being sent out of the country, and orders sent to high-risk regions. Eastern Europe, Central America, the Middle East, and Southeast Asia are known for having higher fraud rates than other parts of the globe. Make sure that the customers ordering from these areas are honest and intentionally ordered products for themselves or loved ones.
Consider setting a limit on how many purchases one customer can make in a day, or how much they can spend. This helps prevent fraudsters from spending large amounts before getting caught. Chances are, your customers will not need bulk amounts of your product in one day or need to make a lot of small purchases.
Another simple way to help prevent fraud is simply by requiring the Card Verification Code, or CVV, when making a purchase. The CVV is nearly impossible for fraudsters to get unless they have stolen the physical credit card. Requiring two-step verification at checkout also helps ensure that it is an actual customer, by sending a one-time code to their email address or phone number.
As you can see, there are many ways that you can keep customers safe and fraudsters at bay. These are not all of the methods that you can use, so look into what measures you need to take for your own company and customer's security. At BMT Micro, we take our customer's security very seriously. Take a look at our Privacy Policy to see how we protect our customer's information and get some new ideas on how to make your site as secure as it can be.