5 Pages Your Ecommerce Site Needs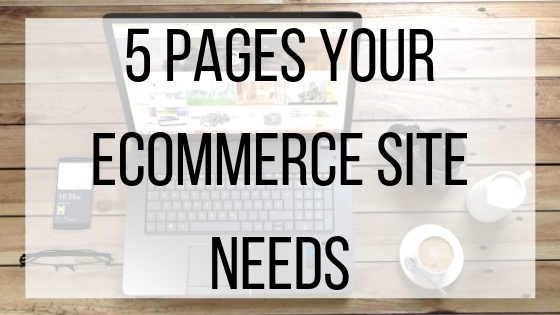 If you are planning on launching an online store, or want to re-do a current website to drive more traffic, you might be wondering where to get started. Although ever site will differ to meet the needs of customers and each business, there are certain components and pages that are essential for everyone. Making your website the best it can be does not guarantee overnight success, but does help with conversions and repeat customers.
Homepage:
This should be a fairly obvious starting point. A well designed homepage sets the tone for your entire website, and the brand image that website visitors will get. Make sure your homepage has a clean look, loads quickly, and is a good introduction to your brand. Include high quality images and a main menu that links to other pages on your website. Include a brief summary of your company to include what you do and how you stand out. This is known as a Value Proposition, and gives your website visitors insight into how you can uniquely solve their problems.
About Us:
Your About Us page is a great way to let customers know more about you, what makes you unique, and why you are the best solution to their problems. This is also a good place to let a little more personal with customers. Give them some information on your history, how you got started, and any fun facts about your company. This helps to humanize your brand and makes you recognized as a group of people rather than a logo.
Frequently Asked Questions:
Having a page dedicated to Frequently Asked Questions, or FAQ's, is a huge time saver for both you and your customers. Instead of having your customer service representatives tied up answering the same questions from frustrated customers, dedicate a page to answering all of the questions that customers often ask. Not only does this free up customer service time, it frees up the customer's time and helps drive sales. Additionally, having a solid FAQ page will help to boost your SEO by bringing up keywords that customers often search. Having those keywords on your website boosts your search ranking. Make sure to keep your FAQ's updated and add to it when you have new questions and answers.
Privacy Policy:
Creating a solid privacy policy and informing customers about it is a great move to boost sales and assure customers that their safety is a priority. Make sure your privacy policy is easy to understand and covers everything that you want it to. Although customers might not read it in-depth, with all of the online fraud happening today they will be assured that their safety is a serious matter to you.
Return Policy:
If you are selling a product that can be returned, clearly outlining your return policy will save you and your customer a lot of potential stress in the future. Make sure your return policy is fair, and not inconvenient to the customers. While it is annoying to get returns, sometimes products do not live up to the customer's expectations. Typically, a two-week return window is enough time for customers to make sure that the product works, and gives them time to mail it back.
Ecommerce websites can be designed to fit your company, so look into what other pages you might need. There are many ways you can set up your website and pages, so do some testing to see what works best and keep the pages updated. Check out BMT Micro's website if you need some ideas on how to get started!