The Do's and Don'ts of Customer Retention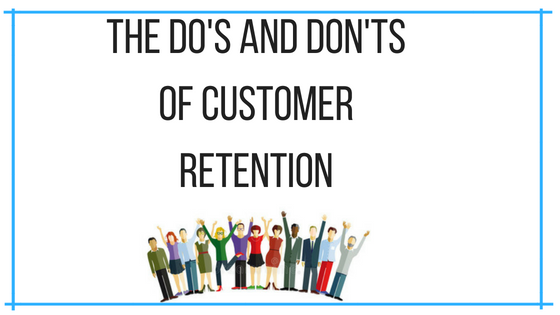 Ecommerce companies have gotten highly competitive, with every purchase, click, and conversion making a difference to each company's success. As most ecommerce businesses know, keeping customers is easier and cheaper than trying to gain new customers. So how do you keep customers engaged and happy with your company? With all of the competition on today's market, customer retention goes deeper than simply giving the customer a quality product or service, although that is a major part of the process. Here are some tips on how to keep your current customers, as well as some practices to avoid.
DO use customer accounts: Just as keeping return customers is easier for you, make the purchasing and checkout process as easy as possible for customers coming back to your site. By allowing customers to create an account, they will not have to fill out all of their billing and shipping information again, saving them valuable time. If your checkout process is too long or repetitive, customers might see it as too much of a hassle and take their business elsewhere. Look for ways you can simplify the process. Saving their shipping address is a great step, saving their credit card information (with their permission) is even better. If you do choose to store their card information for them, make sure to have them re-enter their security code and expiration date to ensure their safety. Etsy is a great example of a site with an easy checkout process. The site allows you to log in through Facebook (meaning customers do not have to create an Etsy account if they have a Facebook account) and they store all of their customer's information. When it is time to check out, customers simply choose which of their stored addresses they would like items to be shipped to, type in their security code for the card they are choosing to use, and purchase their items. BMT Micro is another excellent example of an easy checkout process. BMT Micro features saved customer accounts for a secure and easy checkout process, localization, flexible delivery options, and much more.
DO NOT make contact difficult: If a customer needs to get in touch with you about an order, make it as easy as possible for him or her. Maybe they made an error when placing the order, need to make a change, or want to track their package. Whatever the reason, having easy and open communication with your customer can make or break a customer's decision to purchase through you again. Offer customers a variety of ways to get in touch with you. Some customers might be more comfortable talking to representatives on the phone, while others may prefer e-mail or live chat. However customers choose to contact you, make sure you reply to them in a timely matter, no matter how large or small their request is.
DO offer discounts: Who doesn't love a discount? While you don't want to go overboard with a discount, offering new customers a deal on their next order is a good way to keep them shopping with you. Even a discount as little as 10% can help sway customers to keep purchasing from your company. Give first time shoppers a special code to help track how responsive new customers are to becoming frequent shoppers. Not only will a discount entice them to shop with you again, but it will help you see how your advertising campaigns are working, and where you can use improvement.
DO NOT keep your customer in the dark about their order: Customers like their product fast. While online shopping takes longer to get products to customers than traditional brick-and-mortar stores, it is still important to get customers their product as quickly as you can. Send them a conformation email when they place their order to give them peace of mind that everything went through correctly. Then, send them a follow-up email when the item ships out with a tracking number. Doing this will give the customer a window to expect their item, and allow them to track it themselves rather than contacting customer service to check on their order. Giving customers updates throughout the process saves you time from answering inquiring phone calls and emails, and ease's customers minds.
DO make suggestions: Using the insight that you have on purchases the customer has made, suggest other items or services they might like. Base it off of customer interests, and recommend new products or similar products they might not have seen. Track what similar items customers are viewing, and recommend them to similar potential buyers. "Based off your interest" categories at the bottom of a page is an effective way to introduce these items. Make sure to track the clicks and purchases of suggested items to keep items fresh, and to see if you are offering ideas customers are interested in.
Current customers are your best asset. Potential customers trust honest reviews or word of mouth from others more than traditional ad campaigns. Make sure you spend time and energy providing a great customer experience for the customers you already have, and they will help bring in new buyers.