An Introduction To TikTok For Marketing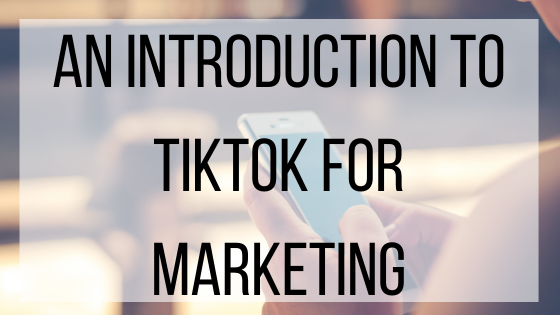 If TikTok has not been on your radar, you are not alone. The viral app targets users under 30, especially those in Gen Z, and makes even its millennial users feel old. However, with its rise in popularity, TikTok has been rapidly expanding its demographic to include older users as well as brands. In case you are not familiar with TikTok, here is an introduction to what the app is all about, and why you should care.
What Is TikTok:
TikTok is a smartphone app known for its crazy trends, dance routines, and silly videos. Users create short videos up to 60 seconds using pre-recorded or original sounds, filters, effects, or anything else to express their creativity. Previously Musicl.ly, the Chinese owned app was bought out and re-created into a more modern version of the popular app Vine, which was shut down several years ago. As of November 2018, TikTok had over 500 million monthly active users, and that number is guaranteed to keep on growing.
How Does TikTok Work:
Once users create a profile, they can follow friends, celebrities, strangers, or anyone else on the app. There is a second tab called "For Your Page" or "FYP" which consists of targeted or popular videos. Users often incorporate hashtags that they think will land them on the "FYP" tab, in hopes to go viral and reach a wider audience. TikTok also makes it easy to save videos and to share them via text message or apps including Twitter, Snapchat, Instagram, and Facebook.
Why Should I Use TikTok:
There are many perks to using TikTok to advertise your brand. By keeping up with the latest trends, you are showing your audience that you are adaptable and aware. It also lets you have fun and show off your talents or humor, and reaches a younger audience with more disposable income.
How Should I Use TikTok:
There are several ways you can go about using TikTok to advertise. One way is by using influencers to promote your product on the app. Ask the influencer to show themselves using your product in an everyday situation or make a short funny video using it. You can even have them create a challenge with it like Chipotle did with their Lid Flip challenge. Another use of TikTok is letting one of your employees educate your followers on a topic in your industry. Often these types of videos are made silly by incorporating jokes or a TikTok trend into the video, but also can also feature a person interacting with a message they have displayed on the screen. United Nations IFAD chose to jump on the TikTok bandwagon by using a combination of methods, such as a video showing women farming in Chad as well as a #danceforchange challenge to raise awareness for their cause. The clothing brand Vineyard Vines took a unique approach by filming a video of their mascot completing a popular TikTok challenge, rather than showing off their clothes.
As you can see by these examples, TikTok is rapidly growing and there is room for any type of business on this platform. One of the best parts about advertising with them, and well as having an account you post on, is that your material will show up organically so users are more likely to pay attention to it. TikTok is a great way to reach a wider audience, have fun, and show off your creative side! Is your company on TikTok? What are some of your favorite trends you've seen? Let us know below!