3 Steps To Starting Video Marketing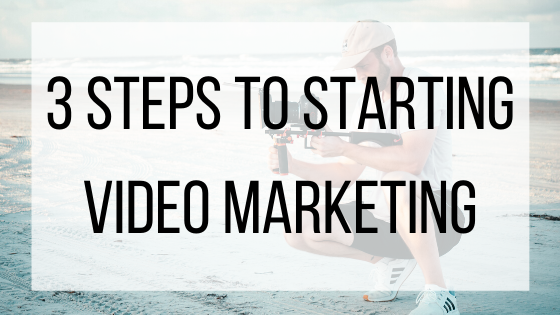 Ecommerce videos have come quite a long way since the early days of YouTube. While we used to be thrilled watching aspiring entrepreneurs or social media influencers show off products in low-quality videos, technology has progressed well passed that. What has not passed is customer's love at watching videos, especially those that teach them more about a product that they are interested in. Despite the popularity of videos, they are still under-utilized by most ecommerce stores. If you are new to video or not certain how to use it, here are some tips to help get you started.
Why Should I Use Video?
Video marketing can hold enormous value to your company if used correctly. One of the best uses for video is helping increase conversions. Sometimes customers do not understand your product fully from just the description, no matter how clear your description is. Having a video can help show them how your product works, which encourages them to purchase from you. In fact, studies have shown that viewers are up to 85% more likely to purchase your product after seeing a video of it in action.
Another great reason to use video is to help boost your SEO. Google likes to provide a variety of search results, and video usually makes the top of their page. Offering videos on your website and social media can help rank you above your competitors. Videos are also easy for people to share, whether they are funny, informative, or inspirational. They are also attention grabbing, so their friends are likely to share the video if they enjoy it, too!
How To Make a Successful Video:
Many people make videos with the hopes of "going viral". When making videos for your business, this should not be your goal. Instead, focus on how you can best communicate with your audience through your videos. Do some research on your target demographic and see what they respond well to. Decide what you want the purpose of your videos to be (do you want to draw attention to your product, introduce a new line you are releasing, tell a story, entertain, etc). For the iPhone 11, Apple made a series of commercials featuring their new phone to appeal to each part of their demographic, from their Intro commercial to the silly "Slofies". SunBum, a company best known for their sunscreen, played to their target demographic's laid back nature to produce silly videos about why their lip balm is the best.
Where Can I Post Videos?
Depending on the type of video, as well as the quality, there are many platforms you can post videos on. Investing in professional quality videos for your website is usually a good place to start if you have the resources for it. These videos are an investment, but will not need to be updated as often. If you think your company would benefit from it, it might even be worth it to create an "About Us" video showing off your office culture, office, and surrounding area. These types of professional videos are great for your website, LinkedIn page, and Facebook page. If your company is less formal and you have a wide following, you can create Instagram TV videos. Instagram TV only allows videos up to 10 minutes, which should be plenty of time for a video. If you find that is not enough, try creating a short series! Some of these less formal videos are also suitable for Facebook, just make sure to see what your customers are reacting well to. One of the biggest video platforms of the moment is TikTok. While TikTok is mostly comprised of a younger audience, it is rapidly growing to include users over 20. If you have a younger demographic or products you can make short DIY videos for, this is a great platform to use! With all of these other, newer video platforms, YouTube remains consistent and easy to use for all of your video needs.
Video can fill a variety of needs for your business and your customers. Make sure to be creative with your videos and choose the platforms that will benefit you the most. What is your favorite way to watch videos? Let us know in the comments!