New Year's Resolutions For A Successful 2019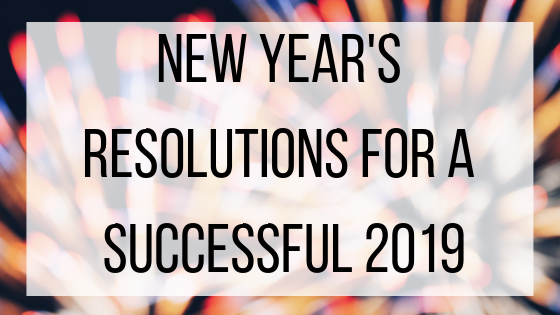 The beginning of the new year is an exciting time. Employees return to work refreshed from the holiday break, with new inspiration and eagerness to get started on their personal New Year's resolutions. A new year is also the perfect time to plan some New Year's resolutions for your company. Having a team meeting to discuss fresh ideas and what goals you all would like to accomplish is a motivating and productive start to kick off 2019. Here are some ideas of New Year's resolutions to help you get started.
Refresh your website:
New year, new you. While your website makeover does not be dramatic, take a close look at it and be honest about what changes need to be made. Websites are hard work to maintain and update, and it is common for companies to leave the results longer than they should. Go through each of your pages and decided if it is time for them to change, or if they are still relevant. Changes to your website can be big or small. You might not need a complete overhaul, but rather small updates. Is your Contact Us page still correct? Does your About Us page need some updating? Even if you simply re-write some of the information on these pages, it shows your customers that you have someone dedicated to checking and updating the website. If you are pleased with every aspect of your website, refreshing your layout can still be fun. Modifying your color scheme, fonts, or pictures would be an exciting change for those creating the website, as well as your visitors. If you do decide your website needs a dramatic change, create a month by month plan of how to accomplish your goals. If you anticipate your website being slow or down during the updating process, be sure to give your customers a heads up to avoid frustration.
Create (or update) a Loyalty Program:
Loyalty programs are an excellent retention strategy. Even if you offer small rewards, such as free shipping or 10% off, loyalty programs are an easy way to increase Customer Lifetime Value. Before you launch your loyalty program, do some research on who your customers are, what demographics you would like to target, and what incentives you would like to offer. See what your competitors and others in your industry are doing to get ideas. Creating a custom loyalty program allow you to thank your customers for continuing to do business with you. If you already have a loyalty program, research and analyze to see what customers are responding to, and what you could modify. Try adding a referral bonus program to reach even more customers. Having a referral bonus encourages current customers to share your company with friends that they think would also enjoy your product or service, and encourages the new customer to give you a shot with a discount or bonus. The start of the new year is a perfect time to add or update both a loyalty and referral program, as it will make customers feel appreciated and peak their interest.
Utilize Social Media:
Chances are your company has social media accounts. This year, plan to utilize them more, put out more creative content, and use them to interact with your customers. Brainstorm new ideas to delight your customers, and weigh how they work against your old tried-and-true content. It could be as simple as adding a Motivation Monday on Twitter, or as ambitious as starting a company blog. Do some research to see if the social channels you are using are the ones that your customers use and respond to, and look at ones that you might be missing. Social media is a great opportunity to grab customer's attention and show off your company's unique personality. There are a variety of ways you can choose to represent your brand, but make sure it is consistent across all channels. Be smart about your social media use, and it will be an irreplaceable tool in driving engagement.
There is no limit to the amount or size of the resolutions you make. Use the beginning of this year as a fresh start for a prosperous 2019. Does your company have any New Year's resolutions this year? Let us know in the comments!