Preparing For The Holidays: Cyber Monday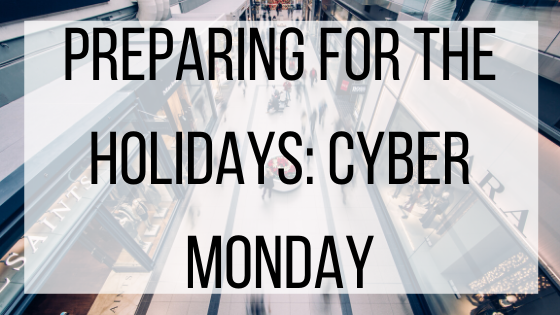 While many customers and companies are gearing up for Halloween, two other eCommerce holidays are rapidly approaching- Black Friday and Cyber Monday. Although they might seem as though they are still a ways away, preparing for these hectic shopping days will allow you to maximize sales, minimize frustrations, and allow for a pleasant experience for all.
What To Expect:
If you have a brick-and-mortar store, clearly alert your customers to your holiday hours, and what sales you will be running. Letting customers know about sales before they come to your store will help you cut down on unnecessary foot traffic, and will entice other customers to check out all of the awesome products and deals you have.
For Cyber Monday, make sure your website is up-to-date and running quickly. You do not want to lose sales because your load time is too slow, or a product is difficult to find. Websites such as Think With Google and Website Grader help you determine your strong points and areas of your website and mobile site that could use improvement. Check to make sure all of your products are in stock, and even consider new product releases. If they sell out quickly because of the holiday, they will look more in-demand to future customers, helping to boost sales in the long run.
How To Prepare:
Decide what kind of sales you want to run first, and when to announce them. Getting in touch with customers by sending them emails, or posting on social media, is an effective tactic in generating awareness and excitement towards the deals you are going to offer.
Offering a one-day sale for Cyber Monday (or Black Friday) drives customers to try new products, or finally purchase an item they have been eyeing for a while. The rush factor of the sale encourages them to make the purchase, rather than sitting on the idea for a while. Consider adding an extra sale code for those on your email list, to thank them for keeping up with you. Bundling products that go together, or offering an exclusive product are other ways to encourage customers to purchase. Bundles are usually a better deal for the customer, as they get a small discount on all products, and you get to introduce them to items they might be unfamiliar with. Adding a free gift and free shipping after a certain amount spent is an incentive that often encourages customers to spend more as well.
Grab Their Attention:
Once customers come to your site, you have a very short window to grab their attention and direct them to the pages you want them to visit. Display very clearly what sales you are running, any codes they might need, and offer easy access through links. Since Cyber Monday is the kickoff to the holiday gift shopping season, consider adding price categories to your website's home page. For example, list gifts under $25, $50, etc. based on your item's regular pricing and target demographic. Showcase a different product each hour, to expose customers to all that you have to offer and bring to their attention new products. Adding a countdown to the end of the sale, or the switch of the featured product helps add urgency to their buying process.
Cyber Monday and Black Friday are great opportunities to draw in new customers and make a lot of sales. Even if you are selling your products at a discount, you are potentially gaining lifelong customers. Be prepared for an influx of sales ahead of time and create a fun shopping experience that everyone can enjoy.