Getting Started With LinkedIn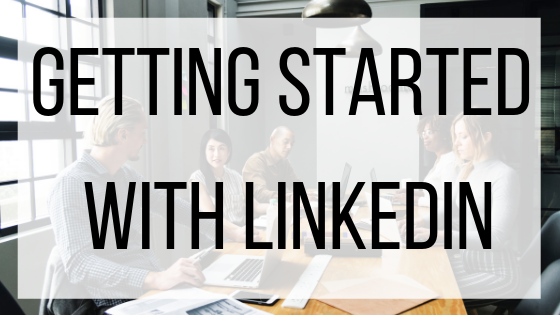 As the majority of marketers and businesses know, social media can be a wonderful and useful way to interact with customers, reach new audiences, and have some fun. Facebook, Instagram, and Twitter probably come to mind immediately for most when social media is being discussed. But with 562 million users in over 200 countries, LinkedIn is not a social network to be overlooked. While LinkedIn has a bit of a different mission than other social networks, it can be an invaluable resource to companies and individuals. Whether you are looking to create a LinkedIn profile from scratch or update a preexisting one, here are some tips to help you get started.
Start with your personal profile:
Even if you are mainly looking to update your company's page, updating your own is an important first step. No matter how great your company's page might look, if the employees associated with it have less than stellar personal pages it will reflect poorly. One of the best parts of LinkedIn is that it allows people to connect with other professionals they might not have met otherwise, or to follow up with someone they met at a professional event. Each employee needs to be prepared to represent the company with his or her LinkedIn account. Prospective employees are very likely to look at the accounts of current employees to learn more about the company culture, and see if they could see themselves fitting in there. Show off how much you love your company by setting the bar high and adding a professional picture, summary, resume and skills. Make sure to keep your profile updated as well, even if it is just with small, quick changes.
Add clear content:
Much like your website, people visiting your LinkedIn page are not going to want to spend much time searching for information. Add a tag line, personalized URL, ask your employees to connect with your page, and make sure your "About" tab is accurate. LinkedIn is also a great place to advertise job openings you have. LinkedIn profiles are more professional and less "fun" than Facebook, so it is easier for potential employees to take a look at your company. Details such as company size, headquarters, company type, and specialties are all clearly listed for anyone who wants to check out your page. There is even a "People" tab that displays your employees, where they are from, where they studied, etc if you want to display your demographics. Adding your employees to your "People" tab will help draw in new employees that are a good fit with your demographic, or new vendors that wish to work with your company size and demographic.
Get your followers and connections involved:
LinkedIn is a prime place to keep up with or share new ideas in your industry. Since it is a professional social network, you will be interacting with people in your industry, rather than your social circle. While it is not a bad idea to have connections in other fields (especially ones that are related to you) it is beneficial to build up your network of people and businesses that you want to professionally interact with. Ask questions about new trends that will get conversations started, share new products or services, or share content from other LinkedIn pages that you think your followers would find interesting. Do not make your posts too long, or your audience will not read or interact with them.
Add page administrators:
Much like Facebook, LinkedIn allows you to add multiple people to help run your company's LinkedIn account. Choose your LinkedIn page administrators much how you do for your other accounts. If you decided to have more than one page administrator, sit down and have a meeting to discuss goals and plans for your page. This helps to avoid over and under posting, and allows everyone to collectively decide on a plan. If you just have one page administrator, it is still good to come up with a plan, and share it with a supervisor or another employee who might have ideas to contribute.
LinkedIn is an easy and fun way to make more professional contacts, show off your business, and keep in touch with others in your industry. Make sure to share and update content often to get the best use out of your profile, and take advantage of the opportunities LinkedIn provides.