5 eCommerce Trends On The Rise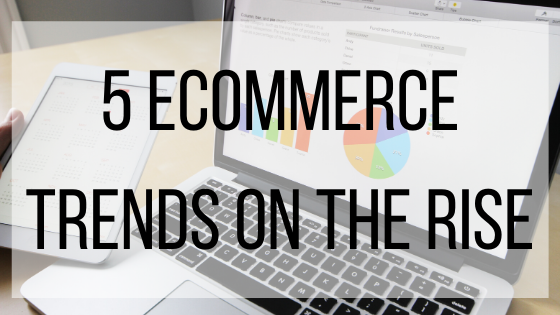 Keeping up with all of the new trends in eCommerce can be overwhelming. The industry is constantly on the rise, so staying stagnant is a surefire way to lose customers and sales to the "latest and greatest". Because we are now into a new year, and a new decade, now is a fantastic time to do some research on rising eCommerce trends. Get a head start by learning about these leading trends coming in 2020.
Mobile Shopping:
Mobile shopping isn't new, but it is continually gaining in popularity. Customers love the ease and convenience of being able to purchase a product whenever and wherever they want. Many companies are creating apps to allow customers to store information such as credit cards and mailing address, so they can make purchases with the click of a button. Even if you decide that an app is not necessary for your company at this time, make sure that your mobile site is the best it can be.
Traditional Storytelling Techniques:
Especially useful for small businesses, traditional storytelling techniques allow you to get more personal with customers. Advertising costs are rising, so creating customer loyalty through storytelling will help create a more compelling personal brand experience. Use free platforms, such as Facebook, YouTube, and Instagram, to create your aesthetic and reach your customers. Don't forget to interact with those who respond to your posts to help foster your customer relationships.
Chatbots:
If you're not already using chatbots, you should be. The way that this artificial intelligence is able to interact with customers is getting much smarter and more "human", making it a great choice for customer service departments. One of the best parts about using chatbots is that they are always available to help customers and never need a break. Make sure to keep an eye on your chatbots to make sure that they are doing their job well, and have an option for customers to reach a human representative if they need additional help.
Subscriptions:
These days, you can get a subscription for just about anything. From groceries to toothbrushes to pet toys, the options for subscriptions seem limitless. Starting a subscription service is a great way to retain customers and encourage them to keep purchasing from you. Offering a "welcome deal" or a small discount upon subscribing is a great way to encourage customers to try new products, or to start shopping with you. Make it easy for them to pause or skip if they need to so that they do not get frustrated and cancel their subscription entirely. If you do not have physical products you are selling them, offer a blog or e-mail subscription filled with useful information.
More Payment Options:
Global eCommerce is constantly growing, and with it comes a variety of payment options. The most important part of accepting different payment types is to make sure that you are taking every precaution to keep your customer's information safe. Allow customers to create an account with you to store their information for easy checkout, and see what types of payment they prefer. The more options you offer, the bigger demographic you will be able to please. If customers are not able to use their preferred payment method, you risk them switching to a competitor.
Although none of these trends are new, they are changing just like the eCommerce industry. It is important to keep up with what your customers are looking for, as well as other new trends that will be big in 2020. What eCommerce trends are you the most excited about? Comment below!