The Pros And Cons Of Chat Bots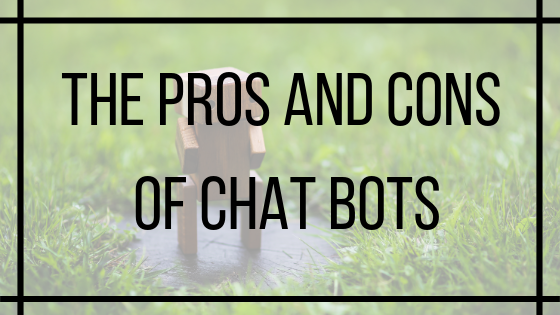 Chances are, if you have been on the internet over the past few years you have had some exposure to Chat Bots. Whether through personal experience or our Introduction to Bots, this trend is taking over customer service channels. When used correctly, Chat Bots can be a wonder asset to your company and customers. While there is no substitute for human interaction, there are pros and cons to integrating Chat Bots.
Pros of Chat Bots:
Chat Bots can be wonderful tools for ecommerce companies. Smaller companies in particular might have trouble keeping their live chat constantly running, especially at times when international customers need help. This is where Chat Bots could come into use. Chat Bots are able to operate for hours without any human supervision. Having a Chat Bot answer customer questions allows you to save time and money. It also allows your customer service representatives to focus on helping your customers in different ways- not just answering the same few questions over and over. While more complex or unusual questions might need to be directed over to a human representative, basic questions are usually answered fairly well by Chat Bots.
Chat Bots allow customer service representatives to multitask. If you only have a small number, or even just one, customer service representative, it can be hard for them to keep up with customer demands. Many customers turn to chat rather than phone calls because it is designed to be more quick and efficient. However, if your representative is overwhelmed with the number of customers trying to get in contact, they are not able to provide their best service and customers will be frustrated in return. By using Chat Bots, customers are more likely to get a quick answer, shorting wait times and improving customer satisfaction. Many Chat Bots can even be programed to form responses imitating humans, so the conversation between customer and bot feels more authentic. And, perhaps the greatest pro, is that Chat Bots do not have any need or purpose outside of helping customers, so they are available 24/7.
Cons of Chat Bots:
No matter how much effort your team puts into creating and scripting a Chat Bot, it is still just a program. While it might be able to recognize and answer many questions, it cannot think outside the box. For quick conversations and common questions, a Chat Bot might be all your customer needs. Humans learn much faster than Chat Bots and can often offer solutions in a more complex way, as they are familiar with the company. Chat Bots also need to be trained for weeks, sometimes even months, before they are useful. While it is a good idea to have someone tracking and analyzing the conversations your customers are having with Chat Bots to improve future conversations, it can be frustrating for customers and discouraging for developers when the Bots do not understand what they are being asked.
Chat Bots are often sensitive, and if they are not programed to recognize spelling errors and typos they will not be able to formulate a response. It is also difficult for them to ask the right questions to guide the conversation. This can cost your customer time while the Chat Bot tries to figure out where to go for answers, and can end up wasting time rather than saving time. For example, say a customer gets online and wants to start a live chat. The Chat Bot greets the customer, asks them how they are doing, and has a "conversation". The Chat Bot talks to the customer by name, uses please and thank you, and responds quickly. The customer then asks a question that stumps the bot. Instead of getting a helpful answer, the bot will give the closet result they are programed to use. Since the customer does not know that they are talking to a bot, they end up leaving the conversation confused and frustrated.
Chat Bots are helpful and innovative. If you do choose to use them for your company, make sure that they are not a total replacement for live chat. No matter how advanced technology gets, there is no substitute for customers getting the help they need from an actual person.