Holiday Shipping: How To Deliver In Just 2 Days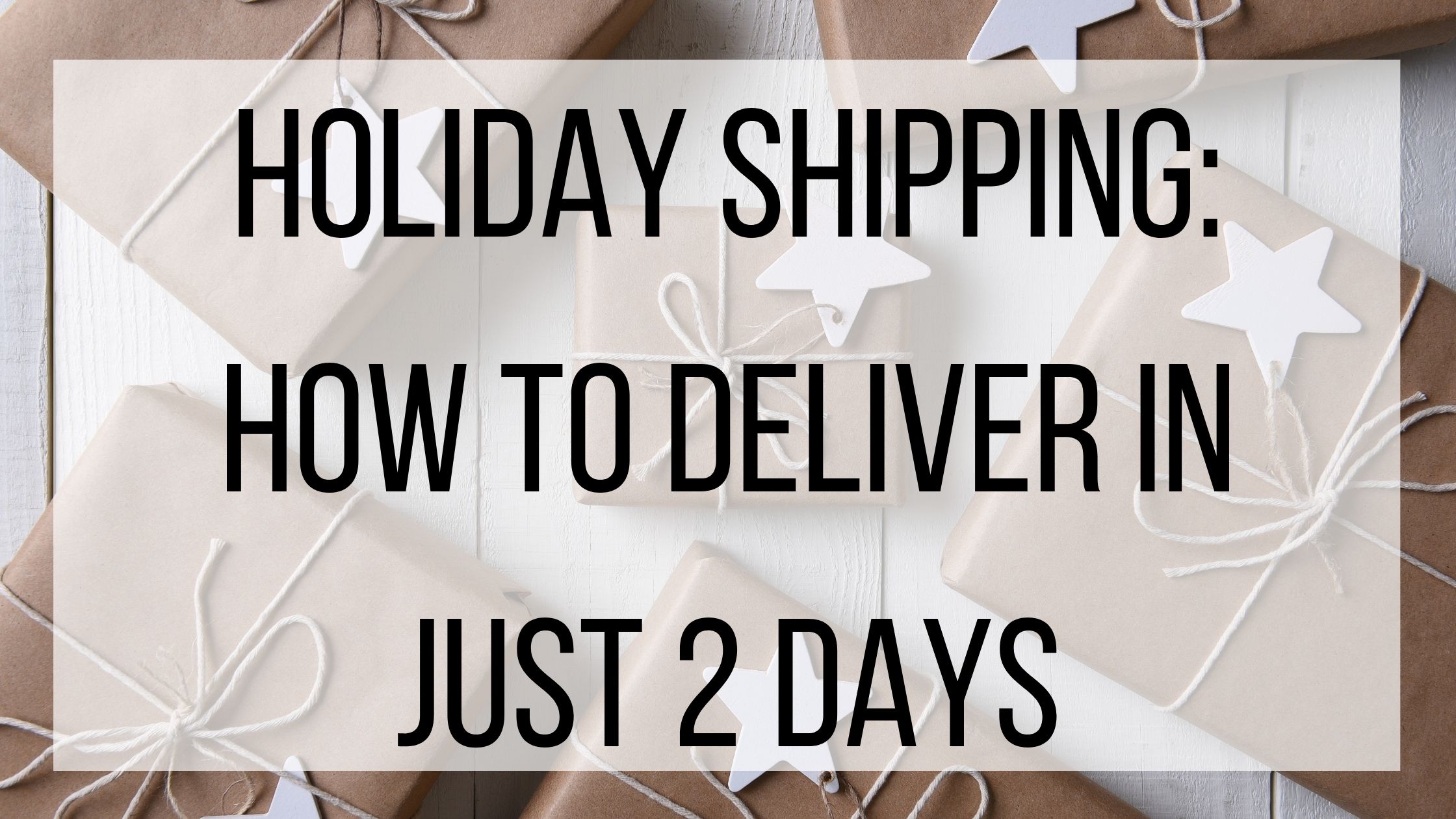 With Christmas just a week away, many customers are scrambling for last-minute gifts. Stores are busy and stressful, and sometimes the perfect gift is online. Offering 2-day shipping on your site can encourage customer to purchase that perfect gift from you. Quick and affordable shipping is so important to customers that 27% will choose one retailer over another based on their shipping options. Here are some reasons why you should offer 2-day shipping, and how it can help boost your sales and customer satisfaction.
Shipping Methods:
The two types of shipping you can use are ground shipping and air shipping. Ground shipping is when you use trucks, vans or cars to transport your orders. Ground shipping is the more affordable and accessible way to get orders from your warehouse to the customer's door. Air shipping uses planes to ship orders, and is often reserved for international orders. While flying a package can be faster than driving it, typically ground shipping is the best option for domestic orders. If you have an order across the country, you can use a combination of ground and air shipping to get the package to the customer quickly.
Why Offer 2-Day Shipping:
Offering 2-day shipping has many perks. First of all, it makes you competitive against big brands such as Amazon, who offer free 2-day shipping to all Amazon Prime members. This encourages customers to make purchases from them, so combat this by offering 2-day shipping for your store! Especially around the holidays, customers want to make sure that their products will get to them on time, so you risk high cart abandonment if you have slow shipping speeds.
Getting your products to your customers quickly also helps you increase customer loyalty. They will be excited to receive their products from you, and making them wait longer than they expect puts a damper on that excitement. Getting products to customers quickly shows them that you are dependable, and that you care about their experience. The longer customers have to wait for their products, the more frustrated they are likely to become. This also increases your likelihood of receiving a negative review and less return customers, even if they love your products.
Offering 2-day shipping can also help you expand your marketing reach. Advertising quick shipping can make your items sound more appealing, and might sway customers to purchase from you rather than a competitor. Especially for items that customers might need soon for a specific event, 2-day shipping might be the point that persuades them to purchase with you.
How To Make 2-Day Shipping Cost Efficient:
2-day shipping costs more than standard shipping, so consider offering it for free with an order minimum. While this might be more money in shipping costs, it encourages customers to spend their money on your products, rather than shipping fees. The added products help absorb the shipping costs, encourages them to make a bigger purchase, and helps boost their loyalty and satisfaction with your brand. Make sure that you add an option for them to select 2-day shipping for an added fee if they choose not to meet the minimum, so they can still get their products in record time.
With many customers last-minute holiday shopping, offering 2-day shipping can help boost sales tremendously. Make sure that you are prepared with reliable shipping methods, and provide a tracking number so that customers can see where their package is. Customer satisfaction should always be at the top of your list, and getting their products to them as quickly as possible makes a big positive impact! If you are looking for any last-minute gift ideas for your loved ones, check out our social media pages for our #WishlistWednesday posts to see what new products our vendors are offering.