Cybersecurity: Keeping it Confidential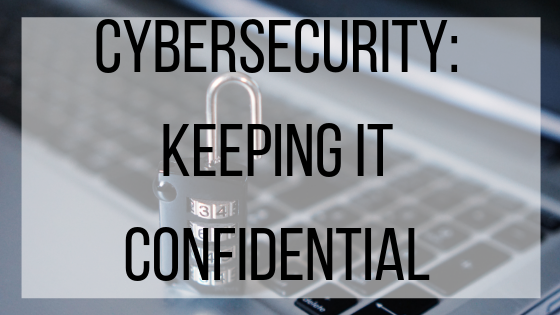 When running a business, it can be easy to get caught up in the excitement and fun of research, planning new products, and creating the best customer experience. And while many companies have security measures set it in place, it is easy to forget to keep them regularly updated, and keep employees aware of current protocols. While not every member of your team needs to be a cybersecurity expert, it is a good idea for everyone to be aware of what cybersecurity is and what protocols are in places to ensure the safety of employees and customers.
What is Cybersecurity?
Merriam-Webster defines cybersecurity as, " measures taken to protect a computer or computer system (as on the internet) against unauthorized access or attack". Going deeper, cybersecurity is the process of protecting personal data and information. This includes passwords, social security numbers, medical records, credit card information, bank information, and much more.
Why is Cybersecurity important?
As online business is becoming increasingly popular, hackers are becoming more and more clever. E-commerce companies are especially at risk, due to the nature of their websites and products. While any company is at risk, small and medium sized businesses are usually more targeted. The reason for this is because smaller businesses have more information and assets than targeting a single customer, but often without the same security measure as a large corporation. Having strong security measures in place help assure customers that you have their best interests in mind and foster a trusting relationship. In addition, you will not have to deal with the nightmare of dealing with cyber hackers stealing your confidential information, so it is a win-win for everyone involved.
Steps to take:
There are many, many ways that you can ensure that your business is up to date on security protocols to keep your information safe. Ultimately, you need to choose methods that you think will best suit you and your customers. Here are a few of the most popular methods for you to take into consideration.
Firewalls and Antivirus software:
While firewalls and antivirus software's are not the same thing, they do work together to help protect your computer. Firewalls are digital walls designed to keep out malicious software and users trying to hack in. They use filters to assess the safety of anyone or anything trying to gain access, and help keep the bad guys out. Antivirus software is used to detect viruses on your computer, and remove them before they are able to cause harm. Often both of these options are available from companies such as McAfee.
Two-factor authentication:
Two-factor authentication is another increasingly popular method for cybersecurity. Also known as 2FA, this login-in process requires two forms of proof before allowing someone to log in to an account. Usually, the first step will require a username or PIN number for login. Once the username and password are cleared, an outside device is sent a one-time code to confirm the user's identity. The outside device code options include text messages, emails, or a phone call. By requiring two forms of authentication, hackers have a much more difficult time getting into accounts and stealing information.
There are many other methods you can (and should) utilize to keep your company and customers as safe as possible. Cybersecurity is becoming more and more important, so look into what measures your company needs to take to have the best security for your customers and your own safety. And don't forget to add a Privacy Policy to be transparent with your customers and show them how you are protecting their confidential information.