One Step Ahead: How To Research Your Competition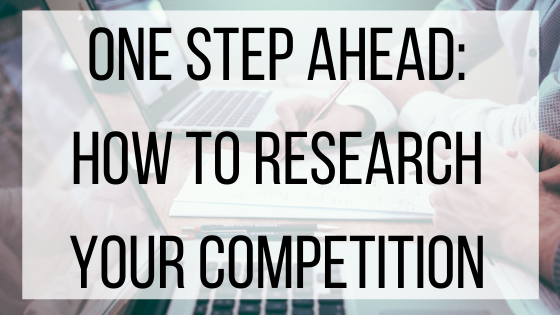 Running an ecommerce store has a lot of perks, such as the opportunity to reach a wide range of customers and share your products easily. However, no matter how unique your product is you will have competitors fighting to take your business. Each company has their own qualities that make them unique and draw in customers for them, but researching your competitors and staying a step ahead is the best way to keep business coming your way. Not sure where to start? Use these tips to get started.
Identifying Your Competition:
The first step to researching your competition is to figure out who they are. This step is fairly simple. The easiest way to figure out who you are competing against is to do a quick Google search and check your Facebook analytics. There are two types of competitors you want to be looking for: direct and indirect. Direct competitors are those that sell the same products as you, use the same channels, and are targeting the same customers. Indirect competitors are those that sell a different but similar product, and have a different focus than you do. They are not as important, but you can still learn from them so it is good to research them as well.
What To Look For:
Start with the basics when researching your competitors. Check to see what social media channels they are on, how they are engaging with customers, and what consistencies they have across their channels. Do a quick search to check out their reviews and what customers like and don't like about them. Next, check out their analytics. It is good to figure out their conversion rates, bounce rates, website traffic, and where they are getting their customers. To take it a step farther, use a website such as Stemrush or Buzzsumo to get a deeper look at who your competition is and what they are doing.
Keeping an eye on your competitors social media analytics and website analytics can be enormous help to you. Maybe they are utilizing a platform you hadn't considered and getting a lot of business from it. On the other hand, maybe a platform you have been struggling with doesn't have much success anywhere in your industry. This is also good to know as you can re-direct your time and money to areas that will benefit you more.
Search your competitors website or subscribe to their email list to see what kind of incentives they give to customers. Do they have a good referral program? Are they offering a bonus or points? Do they run sales, and if so how often and successful are they? Check to see for product bundles, what is selling the best, or any other information that would make them seem appealing to customers. Additionally, see if you can find any information on things that their customers do not like, so that you can avoid making the same mistakes. You might also want to check on their shipping process to see what it looks like. See if they are offering free shipping and how long their shipping process takes. Compare it to your own shipping process to see if there is anything you could improve on. When customers order products, they are usually anxious to receive them, so getting them their products quickly and in perfect condition will encourage them to shop with you again in the future.
There are an endless amount of analytics that you can use to see where you stand compared to your competitors. Keeping an eye on them helps ensure that you are staying ahead in your industry and not getting left behind. While you want to be the best you can be, always keep your research ethical and do not slander other companies. Although time consuming, conducting this research and understanding where you rank will help you be the best you can be.