Coming Home: How To Make Your Homepage Stand Out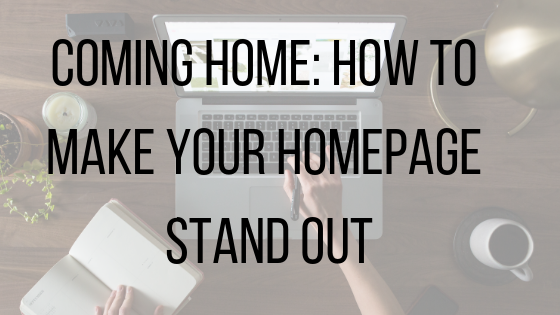 Your homepage is the most important element of your website. It serves as the introduction to your brand, sets the tone, and persuades customers to continue shopping with you, rather than switching over to a competitor's site. Every detail on your homepage should be working towards helping customers, both new and old, find what they are looking for. While there is not one right or wrong way to design your homepage, here is a guide to help you create one that reflects your brand's image and captures customer's interests.
How to get started:
When designing (or re-designing) your homepage, it is important to ask yourself what will work best for your company, and your customers. What works for one business or industry could be a failure for another company. Ask yourself a list of questions before you get started on your design. What is the goal of your homepage? Do you want the visitor to make a purchase, join an email list, or interact with you? How will you make this as simple as possible for them? How much information does the visitor need to accomplish the goal? Are you adding any unnecessary steps? Some of your visitors will come to your website knowing what they want, while others will be unsure or uneducated about your business. Use your homepage to your advantage to make their final decision align with the goals you have set.
What outcomes should the homepage support:
On average, you will have less than 15 seconds to convince visitors to stay on your page. From a design perspective, this means that you need to make the path the visitor would like to take as clear as possible. This is largely to to a psychological phenomenon called decision avoidance. Decision avoidance translates to customers not making a decision at all if a decision is taking too long to make. If your homepage takes too long to load, or if what they are looking for is not easy to find, it is very likely that your visitor will look for their solution elsewhere.
What should be included:
Add "above the fold" content that helps direct user's attention towards the product or service they are likely looking for. If you have a wide range of products, make it easy for them to narrow down their search by category. Airbnb sets a wonderful example of this. Upon entering the website, they have a clear "Explore Airbnb" bar with their three main categories. If you know exactly what you are looking for, a search bar is placed directly at the top of the page. Recommended vacations and experiences are farther down the page. The design is clean, simple, and eye catching. Make sure that all of your other pages follow suit with your homepage. Adding video to your homepage can be beneficial for some companies. For products or services that are innovative or more complex, customers might be persuaded from a clever visual demonstration. One of the most important final touches to planning your homepage is to make sure to have a clear call-to-action. The call to action should align with what next steps you want the customer to take. If that is to purchase from your new collection, create an announcement with a link. If you want them to educate themselves on your new, cutting edge product, make it clear with a video front and center.
Homepages can be a lot of fun to create. Make sure to keep yours updated (especially with the holiday season here) and track your site visitors and sales. Making small changes with updated products or seasons keeps customers engaged and helps create a fun experience for everyone.