How To Make The Perfect Logo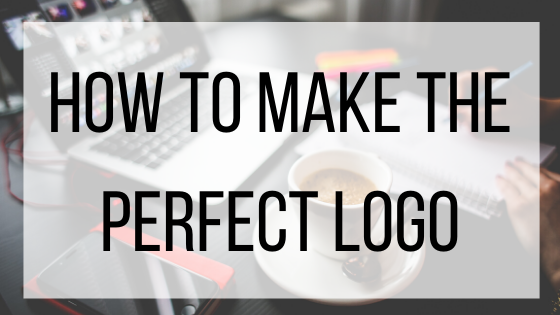 The last couple of weeks we have been going through the branding process together. From starting your research to the creative process, there is a lot that goes into branding your company. This week, we are going to talk about how to do the final step: creating your logo.
Why Your Logo Is Important:
Your logo serves as the symbol of your company and helps tie everything together. Whether or not customers realize it, they base their first impression on your logo. The colors, font, and design or picture that you choose will speak volumes about your brand. Aim to create a logo that is true to your brand, and is easily recognizable. Having a simple, clean logo can help you build your success by being an easy choice for customers. Think of brands such as Apple, Nike, or McDonald's. They all have very simple logos and they are so recognizable that you don't need the name alongside the logo to know who they are and what they do. Creating a logo and brand image that doesn't line up to what your customers want can be hurtful to your brand, even if your product is great. A good example of this is when Suave decided to run an experiment to see what customers had to say about their product if they changed their name and packaging, but kept the same product. The result was a product that customers and influencers raved about. However, when they changed back to Suave, their sales stayed the same.
Start Creating:
Choosing to tell your story with your logo is a great way to make it memorable and make it resonate with customers. Look at others in your industry and see if you can find any trends that seem to work well. Colors and fonts play a big part of your design, even if you choose to use a picture as well. You could also choose to make a picture the primary part of your logo, like Starbuck's famous siren or Apple's distinct apple. Try to choose a logo that is timeless and versatile. Even if you make updates to it in the future, customers will still be able to see it and recognize your brand. People recognize brand logos before they can recall them, so having a logo that is unique to you crucial.
Once you have an idea of a design, start testing your colors and fonts to see what looks the best. Even small differences can make a big impact, so be sure to keep consistency with your website and social presence. People have an emotional response to colors, so choose wisely based on the words you used to describe your company. A little research might benefit your decision-making process. Chances are, there are certain colors that people relate to your industry. There is likely a reason for that, and while you want to stand out from competitors you also want to fit industry standards. You'll notice many fast food places use bright colors such as red and yellow because they are cheerful and bold. Many tech companies use neutrals such as silver and blue, project dependability. If you're stuck for ideas, try a logo maker such as Looka to help you get started.
Once you have some ideas for your logo, try testing them out on customers. This could be through A/B testing, or even a poll to see which ones they respond to best. Target customers who fit your buyer persona, so you'll know without a doubt what they respond to best. Letting them help you choose is also a great way to get them invested and make them feel heard and cared about. If you want a more professional opinion, try a logo grader.
Creating a logo is a challenging task, but a rewarding one. Whether you are starting from scratch or re-branding, your logo will help your brand come to life.