Spring Cleaning Your Online Presence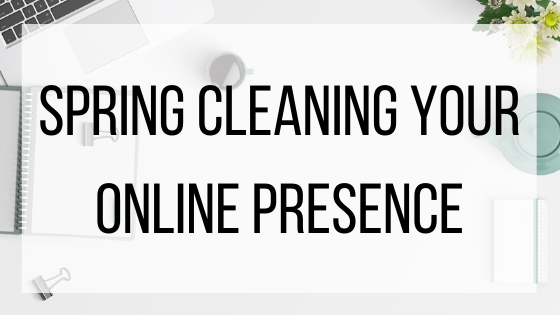 The weather is starting to warm up, we have an extra hour of daylight to enjoy, and the promise of spring is in the air. One spring tradition many people participate in is spring cleaning. After being cooped up all winter, getting some fresh air, going through all of your clutter, and scrubbing everything down is refreshing and revitalizing. Spring cleaning doesn't have to be a tradition just for your house, and it shouldn't be. Taking time to clean up your social media and website can do wonders for your business.
Review Your Information:
When is the last time you took a good look at the pages on your website? Odds are you have grown and evolved since you wrote those pages. Update your About Us page to reflect where you are currently, review your FAQ page, and make sure your Privacy Policy is up-to-date. While these pages might not be wrong, refreshing them lets customers know that you pay attention to your website, policies, and questions. Even if you think the information is still correct, look closely to see if there is anything you can add, change or clarify. If you have product pages this is a great time to make sure that your pictures still fit with your brand, gauge how they are performing, and make sure you do not have any old or sold out products still listed as available.
Review Your SEO:
Once you are done with content, it is easy to forget about it. However, not keeping an eye on your SEO can really hurt your rankings. Look into what keywords have or haven't been working for you, see what customers have been responding to, and take a good look at your analytics. Check for any broken links you might have, which are frustrating for customers and harmful for your ranking. Find a free tool to scan your website and break down for you what you can fix to make your website the best it can be.
Review Your Navigation:
With website updates, you want to make sure that it is still easy for customers to find what they are looking for quickly and easily. If you need to update your website navigation, now is the time to do it! Do not make customers jump through hoops to get where they are trying to go. This is also the time to make sure that your social media accounts are easy to find, and link on your website. Check to make sure that your website is optimized for all devices, especially smartphones and tablets.
Check Out Your Competition:
To be the best you can be, it is important to keep an eye on how your competitors are doing, and what they are doing. Look at what changes they have made over the past year or so, and how customers are responding to them. Have they changed their prices? Expanded their demographic? Added new products? Being aware of what is going on in your industry allows you to stay competitive. If you already offer better deals than they do, brainstorm how you can reach their audience to alert them of your deals.
Spring cleaning your online presence might seem like a daunting task, but break it into easy steps like these and you'll be done before you know it! Work together to create a plan to make your website and social media the best it can be.