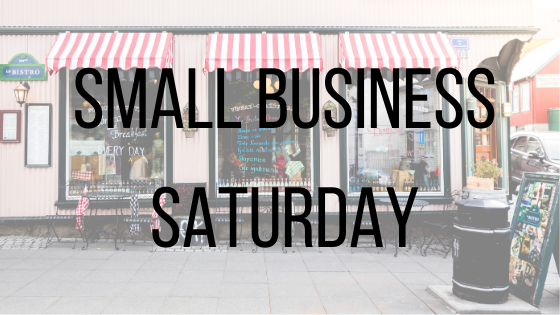 When you think of holiday shopping and great sales, your mind probably goes right to Black Friday. For those who prefer to skip the crowds, Cyber Monday might be your preferred way to get a start on holiday shopping for your loved ones. Small Business Saturday is a newer shopping holiday that has been rising in popularity over the last few years, encouraging customers to shop at their local businesses rather than large corporations. While supporting small, local businesses is always a good idea, here are some ways that you can participate and support other small businesses.
Why Support Small Businesses:
Small businesses are part of what helps set each unique town or city apart from one another. Rather than being defined by their size, small businesses are often known and loved for the heart of the brand. When you shop with small businesses, you are giving money directly to your local community, and hard-working entrepreneurs. Small businesses often struggle against larger corporations because they are localized, and they do not have as many resources. Each sale makes an impact on them, and they are passionate about the products that they are selling. Small business owners and employees love getting to know their customers, and enjoy making everyone feel welcome and appreciated in their stores.
Ways To Support Small Business Saturday:
With COVID-19 precautions still in place, Small Business Saturday is likely going to look a little bit different this year. Check with your favorite local businesses, or visit some new ones to see what they have planned for Small Business Saturday. Local businesses care deeply about their community, so make sure to respect their rules and guidelines to help keep everyone safe while shopping.
If you are not comfortable shopping on a day that is potentially busy, purchasing a gift card is a great way to support your favorite businesses. Gift cards can make for a good present as well, and can help you introduce your loved ones to your favorite spots! While you are out grabbing gift cards, check out a new local coffee spot or get some lunch to go from a restaurant you haven't tried before.
Another way that you can support your local businesses is to order online from them. Many shops will offer local pickup. Even if they do not advertise local pickup, they are usually willing to work with you. Pre-ordering your items saves you and the business employees time, and saves both of you shipping costs!
How To Participate:
If you are wanting to promote your own small business, there are many ways that you can do this! Plan out what deals you want to offer your customers. Then, advertise! You should do this on your social media channels, as well as advertising in your storefront if you have one. You might even be able to advertise in other small businesses. Consider teaming up with other businesses nearby and hosting an outdoor pop-up event. This will benefit everyone by attracting everyone's different customer bases, and give the community a chance to explore several different local shops all in one place! If you run your company online or do not want to encourage a large gathering, consider running a Small Business Saturday giveaway contest. You can do this solo or team up with other businesses to have a grand prize for one lucky winner!
While shopping locally is always a good idea, this year it is especially important to support your community stores. With a little bit of preparation, advertising your business to your community can be fun and simple! If you have a small business and are interested in help selling your products safely and securely, contact us at cservice@bmtmicro.com.