How To Run Successful Promotions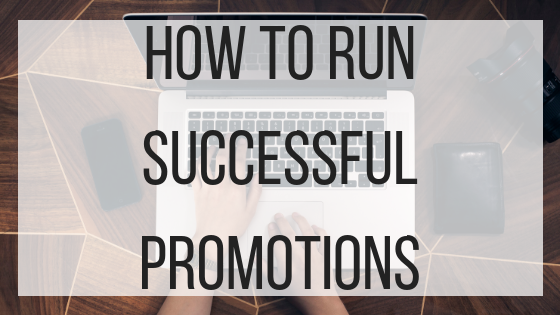 Customers appreciate promotions and deals at any time of the year, but around the holidays they have come to expect it. Offering holiday promotions can be one of the best ways to build excitement around your brand and increase sales to help you meet your year-end goals. No matter the time of year, it is important to choose the type of promotion you want to do and to be prepared to run it.
Types of promotions: Any type of promotion you run is likely to get your customers excited. Do some research to see what type of discount would draw in the most customers, and get them excited to purchase from you. While it might seem like running promotions will cause you to lose money, if executed well they can help you gain new customers and increase revenue. Here are three of the most popular types of promotions.
Percentage based: Percentage based discounts are one of the most popular promotions. Even a small discount, just as 10%, can help draw in customers and convince them to purchase from you over a competitor. If you have old inventory you are trying to clear out, offering large discounts is common to encourage customers to purchase last season's items, while allowing you to make some money on products that would have otherwise been overlooked.
Dollar amount: Another popular method is a dollar amount discount. Advertising the dollar amount as "credit" that the customer has won or earned is an encouraging way to get them to make a purchase, using their discount. Some websites allow customers to spin a virtual wheel when they provide their email address, winning various discounts, while others will send the credits directly to the customer's inbox.
Free shipping: Free shipping is one of the most effective promotions. No matter how much money the customer is willing to spend on products, they often will change their minds once they see the shipping costs factored in. Offering free shipping will help sway customers to purchase from your website, even if you offer it with limitations (for example, free shipping on orders over $50 or free domestic shipping).
Running the promotion: Once you choose the type of promotion you would like to run, make sure you are well prepared. The first step is to plan your goal (or goals). "Increasing sales" is obvious and vague, so narrow down on what exactly you are trying to accomplish. Are you trying to draw in new customers and encourage return customers to shop with you? Is your goal to reach a new demographic to expand your target audience? Do you want to make room for new inventory? Whatever it is, identifying the goal is your first step to success. After you determine your goal, target your audience. This will allow you to focus in on customers who are more likely to be interested in your products and actually purchase them. You will also want to set a time limit on the sale, and urge customers to hurry and make their purchases before time is up, or the product is sold out. Having a flash sale, or hyping up a sale with a time limit or a day or two, is a great way to get customers to make that purchase they have been contemplating. Lastly, if there is a holiday (big or small), capitalize on it during your promotion. Sales for holidays such as Christmas are a given, while sales for smaller, "fun" holidays can be a great way to get customers attention without much competition. For example, while your competitors are running Valentine's Day sales, you could run a buy one, get one sale for "Make A Friend Day" on February 11th. This does not exclude you from also running a Valentine's Day promotion, but does get buyers attention with a unique theme. The last step to running your best promotion is to monitor the results. See if you met your goals, where you exceed your expectations, and where you fell short. This will help you do even better during your next promotion.
When done correctly, promotions can be a great asset to your business and can boost your revenue. Pay attention to what your customers are responding to, and use your promotions to delight them and turn them into advocates for your brand.