Connecting With Customers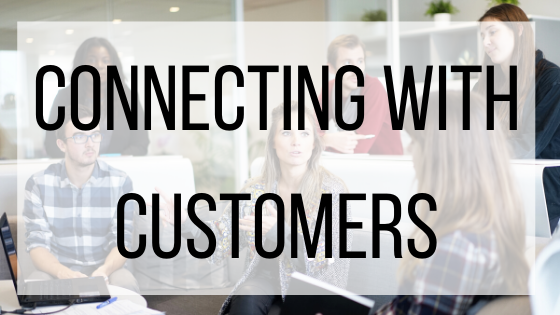 When looking into how to grow your brand, you'll often hear about how customer engagement is important. While it is easier than ever to reach your audience wherever they might be, competition is also getting more fierce. A great way to improve your credibility and draw in new customers is by increasing customer engagement. While it might be tempting to post your regular content and hope that customers engage on their own, putting effort into creating content that they respond to is not only helpful for your brand, but can be a lot of fun!
Why Is Engagement Important?
With so many companies and brands in the world, customers often tend to stay loyal to those that they already trust, even if they are not fully happy with the products or service they are receiving. Scammers have easy access to creating websites that under deliver, or are straight up deceitful. While the majority of companies are not that way, if customers come across a brand that they have never heard of, they are likely to steer clear if they cannot find any reviews or customer engagement, even if you are offering a great product at a great price. If you are already more established and trusted, engagement helps to expand your audience and introduce you to new customers.
Run A Contest:
One of the most fun ways to get customer engagement is to run a contest. Decide on a prize you'd like to give away and encourage customers to enter by following you and tagging a friend in the comments or sharing the post. Not only will you gain more of a following, but the friends tagged are more likely to look into using your products even if they do not win, because it was recommend by someone they trust. If they see that your contest is getting a lot of shares or tagged entries, even from people that they do not know, they will trust that others in their demographic trust you and it will boost your credibility even more.
Start A Campaign:
Creating a campaign can be a fun way to drive customer engagement and get people excited about your brand. This could be as simple as using a certain hashtag when they use your product, doing a silly dance challenge, or anything that allows them to be creative. A great example of this is the #ShareACoke campaign that Coca Cola started in 2011, and brought to the United States in 2016. The campaign included them printing "Share A Coke With…" followed by a name displayed in bold letters. This not only brought attention to their products so customers were actively looking at and thinking about Coca Cola while they were anywhere they could purchase a bottle, but also connected customers by encouraging them to purchase a personalized bottle for loved ones if they found their name. Since Coca Cola is inexpensive, it became a fun way for people to reach out and give others a small treat, and to share their excitement when they found their own name on a bottle. If you decided to run a challenge, make sure to share some of your favorite entries to excite customers at the prospect of being featured on your page!
Create Videos:
While pictures are great, videos are rapidly rising in popularity. Not only does it allow you to get more creative, but can be helpful in showing customers different ways they can use your products. Videos do not have to fully revolve around your product, as you can show customers different ways they can incorporate them into their lives. Ask customers to tag you in any videos of them using your product in fun or creative ways to get more organic content, boost your credibility, and maybe even show you new ways to use your products you hadn't thought of.
Ask Customers For Reviews:
Although it's one of the most basic things you can do, it can also be one of the most helpful. After a customer makes a purchase with you, send them an email asking how their experience was and to rate their product with some feedback. Make this process as easy as possible for them to increase your reviews. It's as simple as that!
Customers are truly the heart of any brand, and there are so many fun ways to get them involved. What are some of your favorite ways to get your customers engaged? Let us know in the comments!