Ready, Set, Action! Video Marketing Made Simple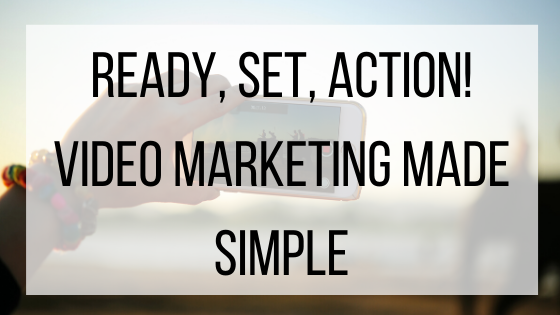 There is no doubt that video content is on the rise, and is not slowing down anytime soon. Creating videos can be a great addition to your content marketing plan. With so many different ways to create videos and so many video-friendly platforms, there is no excuse not to partake in this trend. If you are new to creating videos, or simply looking for new ideas, here are 4 easy ways to get started.
Create An Introduction Video:
Introduction videos help humanize your company and allow customers to get a better understanding of what you do and why you do it. Make the purpose of the video to tell your story, rather than make a sale. Creating an introduction video is much more effective than trying to cram information into a paragraph or two, as well as more engaging. If you are well known for one product in particular, you could even make an intro about that. Simply put, an introduction video will help your customers understand the passion and reason behind your brand, and will help to gain their loyalty.
Make Educational Videos:
Consider making a mini-series to educate your audience on hot topics in your industry, or on new ways to use one of your products. If you have a lot of FAQ's, add a video in to answer the lengthier questions to help supplement the text. You can make the videos serious, silly, or anything in between that you think reflects your brand voice. Ask experts who love your products to make a guest appearance in a video as well for some extra ethos.
Be Creative With Your Platforms:
YouTube is the obvious choice for posting videos. While YouTube is definitely having a moment right now with the rise of "Youtubers" and trends such as Vlogmas taking over, there are other platforms you already have followers on that are great for video. Facebook allows you to upload videos, adds them to a "Videos" folder automatically, and even lets you pin a video to the top of your page. Instagram is another platform that makes it easy for your videos to reach a wide audience. If you want to post a video to your feed, you can include up to one minute of content. On your Instagram story, videos will break up into 15-minute clips that play back-to-back. For longer videos, try Instagram TV, where you can upload up to 60 minutes of content. The pros of using these platforms are that you already have a following, so it is easy for users to watch your videos without having to visit another site.
Use Videos In Your Email Marketing:
What better way to share a video with your audience than by sending it directly to them? Not only will that catch their attention, but it will be so easy for them to view the video that chances are they will at least watch the first 10 seconds. When planning these videos, make sure you grab your audience's attention quickly so that they are encouraged to continue watching. Alert them in the subject line that there is a video to increase your click rate.
Videos are a fun and creative way to show off your brand, educate your audience, and improve your SEO. What is your favorite video platform? Let us know in the comments!