Selling Online With BMT Micro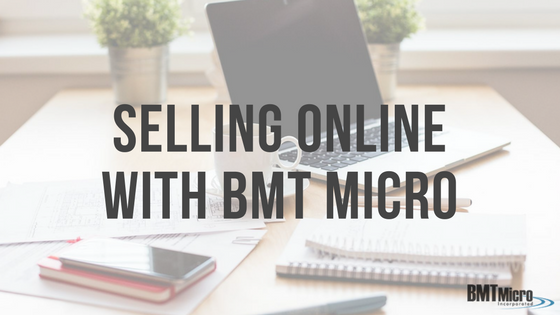 The ability to sell and deliver your product or service online can be one of the toughest aspects of e-commerce. Shipping products, managing payment options, and improving sales can all be incredibly time-consuming and overwhelming. For many businesses today, it is more cost effective to outsource e-commerce needs than to hire in-house staff.
Outsourcing e-commerce needs allow your business to focus on your product or service rather than investing time, money, and resources into developing and maintaining an entire e-commerce system. It doesn't matter if you are an independent developer working in your spare time or an established firm with an interest in outsourcing your e-commerce needs, a third-party platform will save you time and money. These platforms (like BMT Micro) are designed to simplify everything and do a lot of the work for you.
Here at BMT Micro, Inc., we offer a full-service e-commerce solution that will meet all of your business requirements. Our proprietary systems (all created in-house) have everything you need to sell software online. The following are a few of the services we can provide to you when you sign up with us:
Quick and easy set-up

Secure storage

Multiple payment options

Orders by phone, fax, mail and courier, as well as purchase orders

Localization & languages

Seamless integration & custom order forms

Advanced fraud protection

Flexible delivery options

Key generation, XML posting, integration

Gift Card and coupon integration

Comprehensive online reporting

Complete invoicing and accounts receivable service

Sales are processed through our merchant accounts so we handle the collection and remittance of the required taxes (including VAT)

Affiliate program administered 100% by BMT at no cost

In-house customer service center

And more!
We offer our clients personalized choices and solutions that other e-commerce providers are unwilling or unable to provide. We are continually upgrading and improving our services, options, and capabilities. With BMT Micro, your customers will enjoy online purchasing designed from the ground up to be intuitive and trouble-free. Plus, we can customize our plans to suit your business needs!
BMT Micro, Inc. has every base covered when it comes to successfully selling your product online. If you would like to learn more about our services or if you have questions, please feel free to contact our vendor services via email at vendors@bmtmicro.com or visit our website at www.bmtmicro.com.
Interested in signing up with BMT Micro today? If you would like to go ahead and explore what our full-service e-commerce platform has to offer, you can do so by signing up here: New Developer Sign-up. Please note: you can sign up and create an account with no costs or commitment. You are under no obligation when signing up with us. BMT Micro charges a % of the commission for each sale so if you never sell anything, you do not owe anything.