E-commerce Basics: Payment Gateway vs. Merchant Account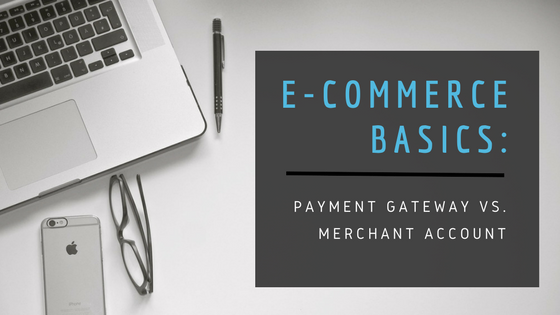 Online businesses face a number of hurdles in order to accept payments from their customers. For that reason, it is crucial to have a clear understanding of the basics of e-commerce and the terminology. Two key components that allow businesses to accept payments online are merchant accounts and payment gateways. Having a proper understanding of what these key elements are and why they are needed can help lower costs as a business expands.
What is a Payment Gateway?
A payment gateway allows a business to process credit, debit and alternative payments online. Just like a physical point of sales terminal at a brick and mortar retail store, the payment gateway is used for facilitating online transactions and helps with authorization. Payment gateways play an intermediary role between the transactions processed on a website and the payment processor. For security reasons, transaction information cannot be transmitted directly from a website to a payment processor.
How it works: The payment gateway is the first place a transaction goes once a customer submits their payment on a checkout page. The payment then goes to the payment processor and on through the credit card network. After, the payment reaches the customer's credit card issuer for authorization. If approved, the payment will make its way from the customer's credit card into the merchant account.
What is a Merchant Account?
In order to process transactions from a website using a payment gateway, a merchant account is needed. A merchant account enables online businesses to accept multiple forms of payment, including credit cards, debit cards, and ACH payments. It is a bank account that is specifically designed for the deposit of funds within an electronic payment transaction. Before a business receives funds in their normal bank account, all approved payments are transferred into the merchant account. Without one, the approved payments have nowhere to go.
There are several merchant account providers out there to suit any businesses' processing needs. Make sure to choose the right provider that offers the best possible rate and fees for your business.
Full-service e-commerce providers, like BMT Micro, also make accepting payments easier by offering a merchant account and a payment gateway all in one. With BMT Micro, all sales are processed through our merchant accounts so you are not required to have your own merchant account (or even a PayPal account). We handle it all and make payment processing much simpler!
If you have any questions or if you would like to learn more about the services we offer, please contact our vendor services via email at vendors@bmtmicro.com for more information.