Increase Your Holiday Conversions on Retargeting Tuesday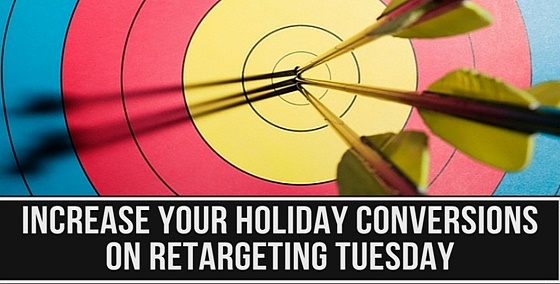 The time has come where consumers break out their wallets and spend, spend, spend. Black Friday is here and Cyber Monday is right around the corner. The cyber weekend is a huge event and, this year, the competition will be fierce online. As we mentioned in our blog last week, Black Friday is changing and is beginning to go digital. But, Cyber Monday still ranks as the heaviest spending day of the year with more than $2 billion in desktop buying last year. According to ComScore, consumers spent $4.8 billion online during the four days after Thanksgiving. But what's even more interesting is that people actually spent more on the two days following Cyber Monday than they did on Black Friday. These two days have also made the top 10 heaviest spending days almost every year since 2008.
It has become clear that online shopping peaks are spreading further into the week, with sales remaining steady on the Tuesday after Black Friday and Cyber Monday. This day has been defined by Criteo as "Bounceback Tuesday" and also defined by Adroll as "Retargeting Tuesday." The basis of the shopping day is to reinforce Black Friday and Cyber Monday efforts by retargeting shoppers who have abandoned a site. During Black Friday and Cyber Monday the average cart abandonment rate is around 80% and only 5% of shoppers return to convert. But in 2014, sales across all key retail categories were 159% above the average on Retargeting Tuesday. This mean that there is a great number of shoppers who are highly engaged, warm leads that are waiting to be re-engaged, and targeting this traffic is exactly what Retargeting Tuesday is all about.
Due to the high search volumes over Thanksgiving weekend, advertisers are provided with a huge pool of cookies on shoppers with a clear purchase intent. This makes retargeting that much more effective and minimizes the need for additional clicks by shoppers that have been researching products. Retargeting allows businesses to reintroduce themselves to shoppers and is a great way to get your brand repeatedly in front of your online visitors. When it is used correctly, retargeting enables businesses to connect with users on a more personal and in-depth level which results in higher conversions and ROI. In fact, shoppers who are retargeted with display ads are 70% more likely to convert. By targeting shoppers near the bottom of the sales funnel, retargeting matches interest with intent and directs shoppers back into the purchase path.
Businesses have a huge opportunity to engage shoppers through personalized and relevant online advertising during the holiday season especially on Black Friday, Cyber Monday and Retargeting Tuesday. As we mentioned before, data collected by ComScore Inc. from the 2014 holiday season shows that Cyber Monday was the largest online spending day. An estimated $2.9 billion in US ecommerce sales are expected to take place on Cyber Monday, which would be a 7.4% gain from $2.7 billion a year ago. Following Cyber Monday, Retargeting Tuesday was ranked the second, Green Monday was the third and Black Friday was the fourth-largest online spending day of the 2014 holiday season. So in order to get the most out of your Black Friday and Cyber Monday efforts, Retargeting Tuesday should be a focus this year.
Retargeting Tuesday is the perfect time for businesses to motivate shoppers to remember their brands. Furthermore, it helps promote a business after post-Thanksgiving shopping days by driving delayed shopping decisions and preventing lost revenue from shopping cart abandonment.
For more retargeting & personalized marketing tips check out our following blogs:
Remarketing
Personalized Marketing Trends