Holiday Preparation: Is Gray November Replacing Black Friday?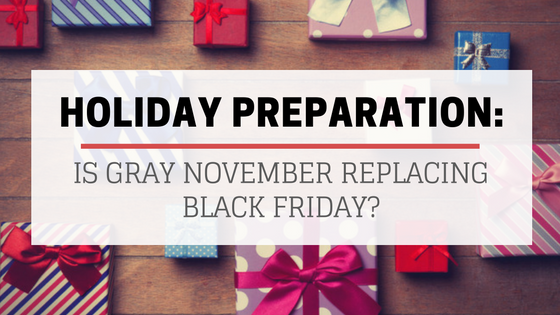 For years, Black Friday has been the kick-off event of the holiday shopping season. But, as we mentioned in our previous blog post, things have changed. Last year, we saw retailers close their doors on Black Friday and push sales online. We also saw many major retailers offer holiday deals across the season rather than a one-day or one weekend of sales.
In fact, according to Brand Keys, this year will be the first time in nearly a decade that Black Friday won't be the biggest shopping day of the holiday season in terms of traffic and sales. So, does this mean this is the beginning of an end to the longstanding holiday tradition of Black Friday shopping?
Every year consumers start their holiday shopping earlier and earlier. According to the National Retail Federation (NRF), roughly 40% of shoppers have started buying holiday gifts by Halloween. The hype of Black Friday is continuing to fade due to consumers not being willing to wait until November and December to begin their holiday shopping.
As a result, retailers are now offering holiday deals much earlier in the season in order to get a jump on the competition and drive more sales. This early promotion strategy has led to many retailers focusing on deals for the entire month of November, hence "Gray November."
"Gray November" does not mean traditional holiday shopping days like Black Friday and Cyber Monday are necessarily dead now. It just means they're no longer the official start of the holiday shopping season. And, the time leading up to the holiday season is just as critical as the shopping days themselves.
Surprisingly, even with Gray November, Cyber weekend continues to be strong in sales. According to comScore, Cyber Monday 2015 was the largest online spending day in history. Plus, sales in November and December are expected to exceed $630.5 billion this year (NRF).
Regardless of which day is better, maximizing the time before the holiday shopping craze is critical to the success of your sales. Retailers that ignore this shift and wait for the traditional signature days will likely miss out on gaining additional revenue. For Gray November, it is important to remember some key things:
The holidays in which you plan to participate in should be decided. The last quarter of the year is packed with holidays and the Black Friday and Cyber Monday hype often overshadow some days. As a reminder, the following are some popular upcoming holiday shopping days:
– November 11th: Single's Day and Veterans Day
– November 24th: Thanksgiving Day (Gray Thursday)
– November 25th: Black Friday
– November 26th: Small Business Saturday
– November 28th: Cyber Monday
– November 29th: Giving Tuesday (or Retargeting Tuesday)
The ad channels in which you plan to focus on should be determined for your holiday promotions. Typically, it best to start advertising 4 to 6 weeks in advance of sales events in order to optimize by time, device, browser and more. But, don't fret if you're behind (now, you at least know what to do to catch up).
Finally, ensure that your customer service team is prepared and policies (return, refund, etc.) are in place and understood.
We hope these tips will help make the holidays a little merrier and a little less stressful for your business. If you are a vendor of BMT Micro and you are planning a Holiday promotion, please feel free to contact us if you have any questions or concerns about your business needs this holiday season.
Here at BMT Micro we are well aware of the increase in demand and traffic our vendors will experience with the holiday rush. We offer a quick and uncomplicated e-commerce solution that will result in fewer abandoned shopping carts over the holiday shopping season. Our system can be used to set up many different discount schemes, and our experienced customer service staff is here to give your customers a great shopping experience. Plus, we have already taken the steps necessary to ensure we are able to maintain our services at the highest level and our vendors are able to get the most out of their holiday season. If you are interested in learning more about our services and offerings please contact our vendor services at vendors@bmtmicro.com.