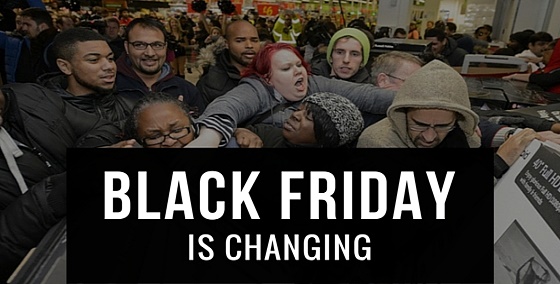 Thanksgiving may be an American holiday, but the day after Thanksgiving (also known as Black Friday) has become a huge shopping day all over the world. But recently things have changed and Black Friday has began to diminish in importance for shoppers. This is due to the fact that major retailers have started offering deals online right after Halloween in order to get a jump on their competition and drive more holiday sales. In fact, only 45% on consumers plan to shop on Black Friday at all.
Some retailers have caught on to this trend and are not even opening their store doors on Black Friday. REI (an American outdoors specialty store) made big news recently by announcing its decision to remain closed on Thanksgiving and Black Friday this year. Instead, REI is encouraging their customers to get outside but also reminds them that their website is always open for shopping.
Even Asda (the British supermarket chain owned by Walmart and credited with introducing Black Friday to the UK in 2013) has announced it would not be part of Black Friday due to "shopper fatigue". Andy Clark, Asda CEO, stated, "customers have told us loud and clear that they don't want to be held hostage to a day or two of sales." Based on this feedback, the company decided to invest £26 million of savings for consumers across the season rather than a one-day of sales.
So is the beginning of an end to the longstanding holiday tradition?
According to Kathy Allen, senior director at the National Retail Federation (NRF), "Black Friday is not dead, but it's definitely different – I don't think it will ever die, but it has to change because customers are changing." People aren't shopping in stores. Instead they are doing their Black Friday shopping from the convenience of their home by shopping online. 57% of people even said that they would rather shop online over battling the masses waiting in line for stores to open on Black Friday. It is becoming quite apparent that online shopping is becoming the go-to strategy among consumers for holiday deals.
But just because shoppers are going online, does not mean it will be easy to convert them even with holiday discounts. With the increase of online shopping on Black Friday, there are two critical issues that a business will need to address when preparing for the holiday rush:
Website Performance
Your website performance is crucial at this time of year. It is important to make sure your website can cope with extra traffic over the Thanksgiving-Black Friday period. It is essential that your business provides a fast, intuitive shopping experience to stay ahead of your competition.
Third Party Resources
Many online businesses rely on resources provided by 3rd parties to help facilitate their sales. These resources can range from a website hosting company, payment services providers, shipping and distribution. If you are expecting to see a major increase in sales during the holiday season, it is a good idea to give these 3rd parties an advance warning to ensure they can provide the resources you need.
If you are a vendor of BMT Micro and you are planning a Holiday promotion, please feel free to contact us if you have any questions or concerns about your business needs this holiday season. Black Friday is changing and here at BMT Micro we are well aware of the increase in demand and traffic our vendors will experience with the holiday rush. We offer a quick and uncomplicated e-commerce solution that will result in fewer abandoned shopping carts over the Thanksgiving-Black Friday shopping period. Our system can be used to setup many different discount schemes, and our experienced customer service staff is here to give your customers a great shopping experience. Furthermore, we have already taken the steps necessary to ensure that we are able to maintain our services at the highest level and our vendors are able to get the most out of their holiday season.