The Competition: How Integrity in Business Can Work For You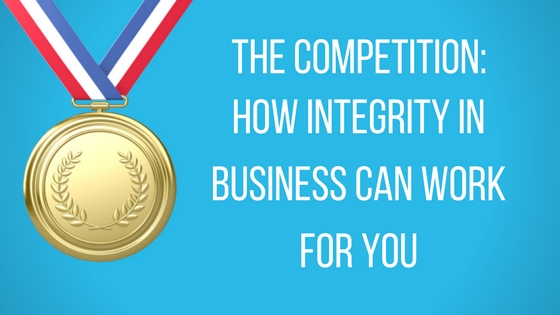 There are many ways to handle the competition – good and bad – if you want to attract new clients. Marketing is promoting your own products and the business that you represent. Of course, there may be many people or businesses selling a similar type of product – and if so, you are probably in direct competition with them for the customer base that you both share. How do you tackle this? How do you "win" the customers over to your side, to buy your products, or to partner with you? There are some "rules of thumb" that can be helpful in knowing how to address, or not address, the competition.
The first "rule of thumb" to consider is to keep the focus on yourself. Simply: if possible, do not talk about the competition at all, whether it is during the sales process itself, on social media, or any other platform. This does not mean that you should not answer a client's questions, if you are being asked, for instance, to compare yourself to a competitor or in which way the client should consider doing business with you rather than with them. But understand: the client is not really asking about the competition. They are asking about you: your company, your products, your services. This is why your reply should be to focus on the specifics of what you have to offer – not the competition! Bring the conversation back to you: instead of saying what the competition does not offer, say what you do. Why do people want to do business with you?
Choose your words wisely. 
Another rule of thumb is to choose your words wisely. This is true for actions as well (social media sharing, posting, etc.). If you are asked by a potential client to compare your business with a competitor and you cannot entirely turn the conversation to where the focus would be on yourself – keep your words and actions factual and neutral. You do not need to aid your competitor in their marketing efforts, so there is no need to excessively laud them, but you do not want to speak of them in a negative way either. Bad-mouthing, gossiping, hearsay, or saying things that you do not necessarily know if it is true or not, may put you in a bad light. You may be seen as petty, untrustworthy, and not knowledgeable in your field. Please keep in mind that the client may know more about the competitor than you do. Again, it is good to remember that if a potential client is asking you about your competitor, it is not because they are interested in the competitor (they could just as well ask them directly!), but because they want to know about you.
A neutral tone and focus on your own strengths and business offerings is advisable. Understandably, it may be tempting at times to lash out at the competition, when the market share is limited and the competition for the same group of clients fierce, but this is where you need to exercise control. Many companies have chased away clients due to negative comments about a competing business. Negativity, gossip, and hearsay about a competitor all amount to a perception of weakness for you and a notion that you may not believe enough in the quality of your product or service to let it stand on its own merits. Even if a competitor may engage in such behavior against you, the high road is the best road to take. In the end, facts work better than mud. Let the high quality of your work and service speak for you.
Word-of-mouth: client testimonials.
If you have spoken about your company and kept the focus on yourself, you may also instruct your potential client to seek out the advice of others like him, with regards to what separates you from your competitors. It is not uncommon to see, on various social media forums and platforms, clients discussing among themselves the pros and cons of a number of competing companies. This should not make you wary, nor should you feel the need to interject – to jump in and promote yourself. The best source of marketing is the testimony of others who have already encountered your line of business or product; who are familiar with the strengths and benefits that you have to offer, and who can advise their peers on why it would be advantageous to partner with or purchase from you. Oftentimes, testimonials from existing clients will tip the scales and land those new contracts on your desk.
Doing the right thing and showing integrity in business – in your day-to-day operations, in your line of service or products, in how you treat your competition –  will be the winning path. You will have succeeded over your competition simply by being the best at what you do; by offering a product or a service that is so undeniably good that clients will want to come to you. This is a long-term solution that requires your constant attention and efforts, but in the end: if you want to build a good brand and attract clients in a positive way, this could well be how the battle is won.