Top Challenges of Accepting Online Payments & Tips To Overcome Them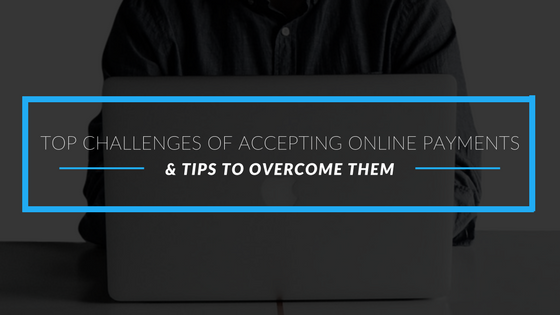 As an online business owner, one of the most critical things you have to figure out is how you want customers to pay for your product or service. It's an obvious business necessity. But, the online payment processing landscape can be a bit confusing and expensive.
There are many unique challenges that make it hard for businesses to accept online payments. Fortunately, we've identified a few of the biggest ones you'll likely encounter – and added some tips on how to quickly overcome them.
Acquiring a Merchant Account & Payment Gateway
Two key components that allow businesses to accept online payments are a merchant account and payment gateway. The payment gateway is the first place a transaction goes once a customer submits their payment on a checkout page. But, in order to process transactions using a payment gateway, a merchant account is needed (for more on this: Payment Gateway vs. Merchant Account).
Applying for a merchant account and payment gateway typically involves going through a fairly in-depth credit check and underwriting. Your business may also have to pay other setup fees associated with a merchant account besides the credit card processing and transactional fees.
Tip: To make your life easier, look for a solution that offers a merchant account and payment gateway all in one.
Cross-Border Transactions
Multi-currency, cross-border transactions can create many challenges related to currency exchange, language barriers, payment and technology standards, and conflicting banking infrastructures. When selling online internationally, it's important that your business is able to support customers' preferred currencies and payment methods. But, this requires setting up new bank accounts, new business entities, and new regulatory hurdles in each national market. You will also need to be able to adjust quickly for varying exchange rates and adhere to international taxes, tariffs, and fees.
Tip: For many businesses, it is easiest to handle cross-border transactions by outsourcing to a full-service e-commerce solution.
PCI Compliance
Handling online payments requires compliance with legal guidelines. For example, a PCI DSS compliance certification is required by card brands such as Visa, MasterCard, and Discover. The certification needs to be renewed annually and achieve a passing score, which is based on a set of very stringent criteria. If your business electronically stores cardholder information or if your processing systems have any Internet connectivity, a quarterly scan by an approved scanning vendor is also required. Any non-compliance could carry the potential for fines and penalties.
Tip: Look into everything an e-commerce platform offers. For example, our vendors are PCI compliant by default using our secure system and there is no need for them to acquire their own certificate.
Fraud
With fraudulent transactions at an all-time high, many payment security experts say PCI DSS alone does not offer enough data security for online businesses. Fraudsters are always looking for new vulnerabilities. If your business accepts a fraudulent payment online, you could end up being held financially responsible for the loss. It is no longer an option to have extra protective measures in place. Even the slightest hint of a security breach or cyber attack is going to tarnish your reputation and lose many customers.
Tip: Some e-commerce platforms offer protective services that can save your business the time and the expense to keep fraud to a minimum and your customer's information safe.
Trying to handle the challenges of online payments on your own can eat up a lot of your money and resources. But, your business does not have to tackle them all alone. There are several e-commerce solutions out there to suit any businesses' payment processing needs. Make sure to find one that can provide top-notch protection and is flexible enough to meet your specific business needs.
Why BMT Micro? We can help your online business overcome all of these challenges. Our proprietary systems have everything you need to start selling online. Sign-up here for free to explore what our full-service e-commerce platform has to offer. Please note: you can sign up and create an account with no costs or commitment. You are under no obligation when signing up with us. BMT Micro charges a % of the commission for each sale so if you never sell anything, you do not owe anything.