Choosing The Right Digital Commerce Platform For Your Business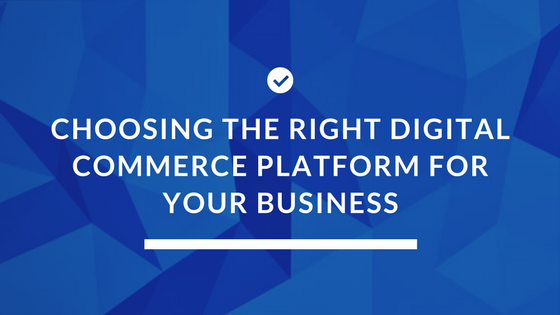 Choosing the right digital commerce platform for your website can be a tough and overwhelming decision. With so many options available, how do you know which platform is the right choice for your online business?
Picking a platform starts with taking a close look at the features you will need to handle all aspects of selling online, especially as your business grows and enters new markets. The platform you choose should provide you with tools that will help streamline sales so you can focus on your product and customers.
When you start your search for a digital commerce platform, there are 3 important questions to consider:
What happens as your business grows?
When deciding on a digital commerce platform, it's vital to choose one with tools flexible enough to grow with your business. Scalability should be a key component of any platform you choose, as it will allow you to expand your customer market and make more revenue. Look for a platform with capabilities that can keep up with your business' ever-increasing demands.
What level of support is offered?
No matter how simple or easy to use a platform may be, at some point, you may need assistance. Customer support should be a huge factor when selecting a digital commerce platform. Some platforms outsource their customer support and this can make it difficult to get help when you need it most. This is why it's useful to take a look at the level of support offered before making a decision.
What is it going to cost?
Digital commerce platforms offer a wide range of tools and features to help you sell online. Make sure to look at all the costs, as well as potential additional costs such as gateway fees, credit card fees, overhead, chargeback handling, tax management and more. Take the time to understand exactly what's included with each platform, and identify the features you really need the most.
Choosing a digital commerce doesn't have to be difficult or daunting. Your decision should come down to which platform works best for your business type and goals.
Here at BMT Micro, we're all about giving you the right tools to successfully sell online. We offer our clients personalized choices and solutions that other e-commerce providers are unwilling or unable to provide. And, our digital commerce platform is designed from the ground up to be intuitive and trouble-free. If you would like to learn more about our services or if you have questions about how we can help your online business, please feel free to contact our vendor services via email at vendors@bmtmicro.com or visit our website at www.bmtmicro.com.
Sign up with BMT Micro today! If you would like to go ahead and explore what our platform has to offer, you can do so by signing up here: New Developer Sign-up. Please note: you can sign up and create an account with no costs or commitment. You are under no obligation when signing up with us. BMT Micro charges a % of the commission for each sale so if you never sell anything, you do not owe anything.