How To Write A Return Policy For Your Online Business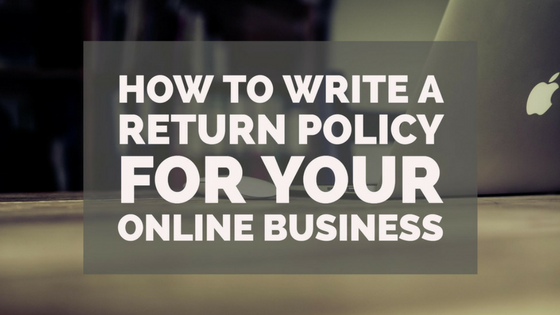 A return policy can make or break an online business. At least 30% of all products ordered online are returned compared to only 8.89% bought in brick-and-mortar shops (Invesp). But, 92% of shoppers say they would buy something again if they were happy with the return policy.
With 67% of shoppers normally checking the return policy before making a purchase, your business cannot neglect this. A good return policy can turn around a poor customer experience and encourage repeat customers. It can differentiate your business from your competition and even reduce the time spent on processing returns.
What is a return policy?
Return policies are the rules business owners establish to manage the process by which customers return or exchange unwanted or defective merchandise that they have purchased previously (USLegal). In other words, a return policy (synonymous with refund policy) is a set of guidelines that business owners follow when dealing with returns and refunds for their products.
For example, here is BMT Micro's Refund Policy:
The majority of the software we sell is distributed on a try-before-you-buy basis, which eliminates virtually all situations where a refund is requested due to the fact that the opportunity to thoroughly evaluate a product is made before the product is purchased. We strongly encourage you to try the software you are purchasing before you buy it. If you purchase a product you have tried and still have discovered problems, please contact the developer or technical support first. In most cases, a solution is available and our experience shows that software developers are eager to help you solve any problems you might have. In the unlikely event you purchase a product you have tried prior to purchasing, and have been in contact with the developer of the software to attempt a resolution, we do offer a 30 day refund policy. The 30 day period begins from the date of the purchase and runs 30 consecutive days, including weekends and holidays.
We offer the same refund policy on software that is not available on a try-before-you-buy basis, however we still ask that you contact the software developer with any issues prior to requesting a refund.
So to recap: After purchasing, if you have any problems you should always first attempt to resolve them with the developer. If within 30 days of purchase you are not able to solve any post-sale issues, contact us and we will gladly assist you.
Having a clear, concise policy is important because it can:
Improve customer service and experience

Attract and retain customers

Set customer expectations

Win customer's trust
[Source: http://www.smallrevolution.com/store-content-pages/refund-policy/]
When it comes to making your own return policy or even just updating your existing one, there are a few best practices to abide by.
Make It Easy To Find
Your return policy should be easy to find on your site. You should never try to hide it or send your customers on a scavenger hunt for the information they seek. 95% of shoppers that make returns will come back if they feel you made the process easy for them.
Time Frame Limitations
It's important to inform customers how long they have to return a product or request a refund. Generally, 15-30 days is standard but just make sure to put it in writing.
State Special Circumstances And Any Return Costs
If your business runs sales or promotions, it is best to explicitly state if these fall under a separate return policy. Also, if it is up to the customer to pay for return shipping, you need to make that very clear.
Exchange, Credit, Cash?
Your return policy should state whether a customer could exchange the item, get store credit, or a refund of their money. Determine what works best for your business and make that clear in your policy.
Keep in mind; a return policy is not one-size fits all. You need to personalize it to your specific business and target audience. Think of your return policy as an extension of your business and an opportunity to build your brand.