4 Ways To Improve Online Visibility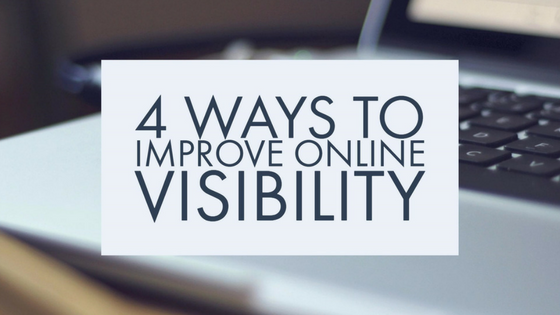 Every business today, even for those who don't conduct business online, needs to have strong online visibility. Having this increases accessibility to your business and supports brand awareness, audience building, and additional marketing efforts.
Online visibility can be defined as the positioning or ranking of your website in organic search results. Or, in other words, how easy it is for consumers to find your business and your products or services online. Without strong online visibility, your business could be losing out on a ton of potential revenue.
The following are 4 ways your business can improve online reach and visibility:
1. Encourage Online Reviews
Reviews can help your business better understand the products or services you sell, and they contribute to search engine optimization. They also help improve online visibility by increasing your digital footprint.
88% of consumers trust online reviews as much as a personal recommendation. But, accumulating reviews can be difficult, especially when you are just starting out. To learn more about how to grow & manage customer reviews, check out this blog.
2. Create and Promote Blog Content
A blog is a great way to build brand awareness online. Publishing regular content helps improve SEO and will increase online visibility. Having an up-to-date blog also helps drive more traffic to your website.
But, creating content for your blog is only the beginning. Your business must promote your blog if you want it to get the attention it deserves.
3. Optimize Your Website
Whether you're starting from scratch or updating your existing website, it needs to be optimized for search. In order to rank in search results, you will need to look at searchable keywords and search engine optimization for your business. Start by identifying major keywords related to your business and phrases your customers are likely to use while searching. You can embed the keywords in your Meta description, title, and alt tags to improve your online visibility.
Also, your website should be optimized for easy navigation from both a desktop and a mobile device. It's important to be conscious of your site load time and the readability of your content across all devices.
4. Engage On Social Media
Social media networks have spent a lot of time developing their social feeds and investing in social search. Google already has deals in place with Facebook and Twitter. Also, social media platforms may be more heavily indexed in search engines in the next few years.
Your business does not have to be on every social media channel to increase your online visibility. Focus on one or two primary social platforms that your business can easily manage and grow. It's important to utilize these platforms to regularly posts relevant and useful content such as blog posts, company updates, and industry news.
Your online presence is key to growing your audience base and improving search rankings. By focusing on online visibility, your business can discover new ways to reach potential customers around the world that are looking for your product or service.