How To Grow & Manage Customer Reviews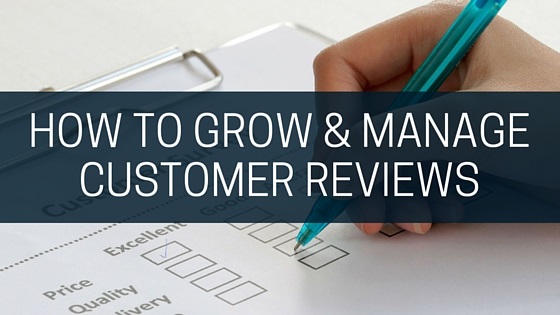 Reviews are key for an online business. They are an essential part of branding and marketing and they help build customer trust. Reviews can help a business better understand their products and they contribute to search engine optimization. Also, highly-rated products often sell more in quantity and price. But accumulating reviews can be difficult, especially when you are just starting out. So how can your online business get more reviews? The following are a few ways to inspire customers to share their thoughts on the products or services you sell.
Email: Unfortunately, most customers are not going to be motivated enough to go out of their way to leave a review for your product or service. The best way to get customers to review items is to just reach out and ask them. Email typically yields the greatest return and is the most common method for asking for reviews. A business can send follow up emails to customers that have made a purchase (usually 10 to 14 days after) and provide them with a link to review the product or service. You can also ask if they are satisfied with their purchase and salvage a bad situation if the customer is not.
Incentivize (without bribing): Incentives are a great way to get people excited about sharing their reviews. But, it is important to note that you should never pay someone to write a review for you (this usually backfires and never ends well). Sometimes just offering a free sample or a discount for your product or service can be enough incentive for customers to write a review. Also, if you run a loyalty or rewards program, you can consider offering your customers points for reviews. If you do not offer a rewards program, there are plenty of other options including: contest entries, coupons, discounts, and gift certificates. Just be sure to clarify that you seek honest reviews so others won't be under any impression that yours are purchased.
Pictures and/or Video: Customers who are active on social networks like Instagram or Pinterest are usually more inclined to share what they think if they can with more than just text. Allowing image and video uploads can increase your chances of getting customer reviews and it can also tell a better story than text-only. If your customers are not directly sharing photos to your business' social pages, you can ask their permission to repurpose their post as a review with credit. This can also be a powerful form of social proof.
Additional Tips:
Always moderate customer reviews. An approval process is necessary to eliminate any spam. And, you will need to approve and reject submissions regularly.
You are going to have complaints. Unfortunately, you can't stop someone from posting a bad review about your company online. Misunderstandings happen and opinions are subjective. But, businesses can turn instances like these into opportunities and show you are willing to fix what went wrong.
Responding in a timely manner is also important. Reviews that need attention, like one stating customer dissatisfaction, should be addressed quickly.
Thank customers for taking the time to leave feedback.
If a review is posted publicly somewhere online, even if you want to address the situation privately, still publish a response confirming that it was addressed and you have contacted the customer.
If you are going to use a review form, keep it as short as possible but ask the right questions so others have the vital information to make an educated buying decision.
Requesting and publishing customer reviews does not require any special tools or technology, just your commitment to see it through. Reviews are an essential, ongoing part of doing business online and can eliminate any purchasing doubts potential customers may have. Studies also show that customers are more likely to purchase from a site with reviews. In one study, 92% of consumers said they trust online reviews and 85% of consumers said they read 7-10 reviews before making a purchase. So, listen to what your customer have to stay and take action when necessary. Showing your customers that you are actually listening and responding to complaints or problems can go a long way. It is okay to have some negative reviews since it adds legitimacy to a business' page and creates a conversation that raises brand awareness. But if you have negative reviews, do not ignore them.
Reputation is what establishes your brand and drives revenue growth. Word-of-mouth has gone global with online review sites, blogs, and social media. It is easier than ever for customers to learn about online businesses and what others think about them as well. Online reviews have a profound impact on consumers purchasing path and many brands still have no idea how it can impact business and sales. The key is to understand that effective brand reputation management is an ongoing relationship with your customers.
If you are a vendor of BMT Micro, an analysis of your digital reputation management is currently available with our Marketing Analysis. The Marketing Analysis also includes an analysis of your current website, SEO, social media performance, target market, competition, and advertising & branding. If you would like to learn more about the services we offer, place contact our Marketing Specialists via email at leah@bmtmicro.com for more information.