New Payment Offerings From BMT Micro: Bitcoin
We are pleased to announce that BMT Micro is now offering Bitcoin as another payment option for our vendors and their customers!
What Are Bitcoins?
Bitcoins are a digital currency. Transactions are made with no central authority or middlemen – meaning, no banks. Bitcoin is the first decentralized peer-to-peer payment network powered by its users.
Who Developed Bitcoins?
No one is quite sure who the face is behind the creation of Bitcoin. The only information the developer (or developers) revealed to the public is a name, Satoshi Nakamoto. Satoshi Nakamoto created the initial software implementation of Bitcoin and released it as an open-source software in 2009. In 2010, Nakamoto gradually stopped contributing to the project and turned over development to the Bitcoin community (which continues to maintain the core Bitcoin software).
How Do You Use Bitcoins?
Bitcoins are kept in a digital wallet either in the cloud or on a user's computer. The wallet is similar to a virtual bank account. The wallet allows users to send or receive Bitcoins, pay for goods or simply save their Bitcoins.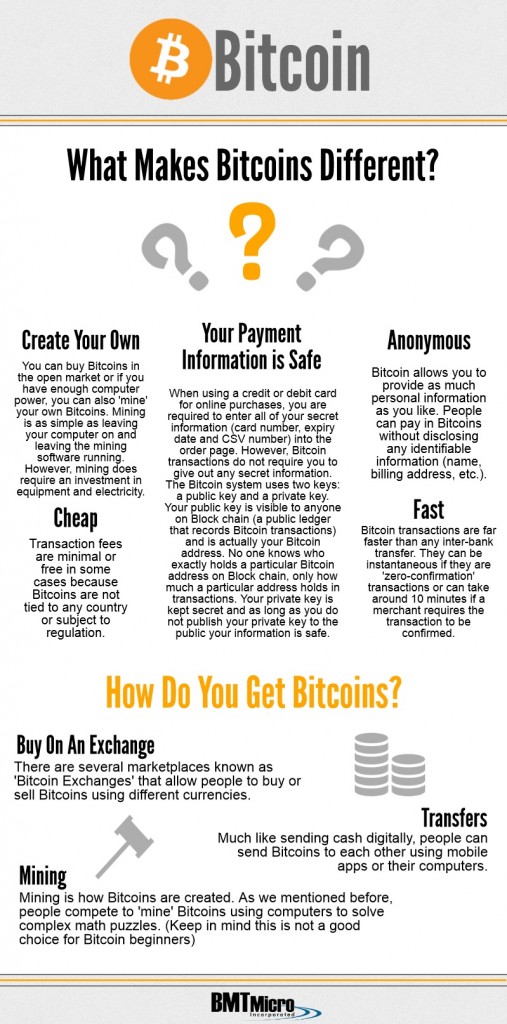 The Bitcoin system is becoming increasingly popular. You can use Bitcoins to buy anything you would use any other kind of currency; however, the business you are wanting to purchase from has to accept Bitcoins. BMT Micro's vendors now have the convenience and ability to offer payment in Bitcoins to their customers. If you would like to learn more about Bitcoin or becoming a vendor of BMT Micro, please feel free to contact our vendor services at vendors@bmtmicro.com for additional information.